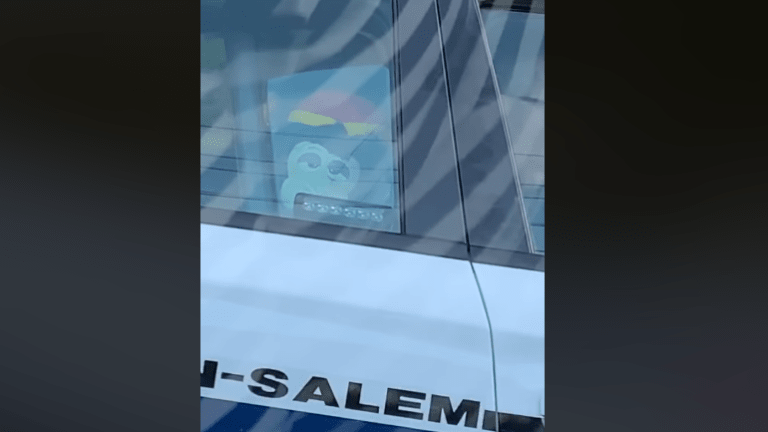 Winston-Salem police remove stuffed monkey from police car following racism complaint
Winston-Salem Police Chief Catrina Thompson has been forced to issue an apology after a stuffed monkey, wearing a beanie and dreadlocks, sparked a complaint of racism.
The stuffed monkey was on full display in a police cruiser, and a member of the public captured the toy on camera and shared it to her Facebook page.
The woman who goes by the name Divine Deva, shared a video of the vehicle online:
"It's To Early For This🤯 I'm So Pissed 😡 And The Worst Part Was My Son Was The One That Pointed It Out🤬 This Is Way To Close To Home😳 🚨Y'all Share This So People Know The Truth About How They Really Feel!! #F12 #WinstonSalem #NC #I'llProtectMyself #DontTrustThem #WhyAMonkeyTho #ProtectYourYoungKings" she captioned the video.
The footage, posted on Monday has already garnered over 8,000 views and has been shared more than 240 times on Facebook alone.
"It makes me question his intent toward the Black men in my community," the woman said.
"I bring this episode to your attention in the spirit of transparency, because I realize that citizens have found the display of the monkey stuffed animal appearing to be riding in the rear seat of a marked patrol car to be offensive," Thompson said.
Thompson continued to say that the stuffed animals are donated to the police by various organizations, and that police have been carrying stuffed animals around in their cars for two decades under the program.
"The stuffed animals have proven to be a successful initiative for the WSPD," Thompson said. "We have taken administrative actions to change the appearance of the display of the stuffed animal, specifically the monkey, to ensure no one else is offended. I assure you this will not reoccur."
She added that officers in the department would be receiving training to ensure that they are sensitive to juveniles and minorities and that the department also does training in bias-free policing.