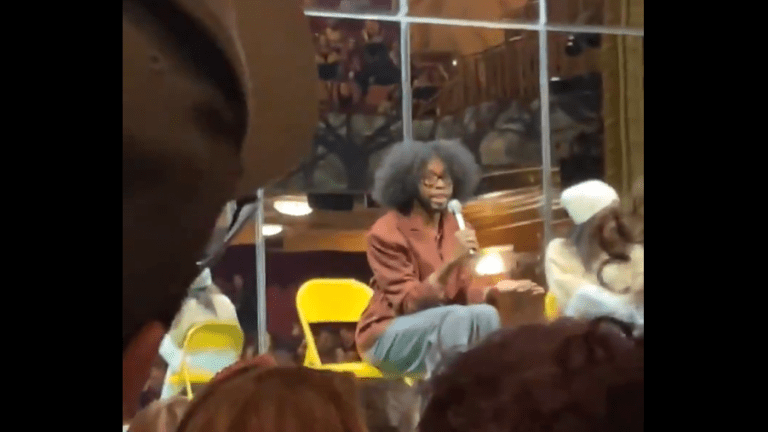 White woman slams 'Slave Play' playwright as 'racist'
A white woman who attended a Broadway performance of Slave Play as gone viral after she leaped from her seat during the showing and accused the gay Black playwright of being "racist against white people."
Jeremy O. Harris was taking questions following a performance of Slave Play, which centers on three interracial couples who are struggling with their sex lives for a variety of reasons and take part in an Antebellum master-slave role-playing therapy workshop to try to resolve their issues.
Members of the audience could not believe their eyes or their ears. The woman stood up and yelled that she"doesn't want to hear that white people are the f*cking plague all the time."
"My jaw was on the floor," Sydney, who was sitting a few rows behind the woman and asked only to be identified by her first name, told BuzzFeed News. "It was really wild, but in hindsight, I'm not surprised at all that a white woman completely freaked out and couldn't handle the emotions she was feeling."
The woman in the video clip is yet to be identified.
"She just freaked out," Sydney said. "The videos don't do it justice. She went off on him. ... She was screaming at the top of her lungs. She could not handle her own guilt or responsibility in her own feelings, and she demanded that Jeremy help explain and handle her feelings."
In videos posted on Twitter, the woman was standing, pointing her finger at the stage, and shouting at Harris, "How the f*ck am I not a f*cking marginalized member of this goddamn society?"
"I never said you aren't," Harris responded, remaining completely calm. "I never once said that you, as a white woman, were not a marginalized person. But if you heard that in my play, I don't know what to tell you. Perhaps read it or see it again."
 He continued:
"This isn't every white person," Harris interjected. "This play is about eight specific people — and if you don't see yourself up here, that's great. You aren't one of them. ... These are eight specific people that are in a play, which is a metaphor for our country."