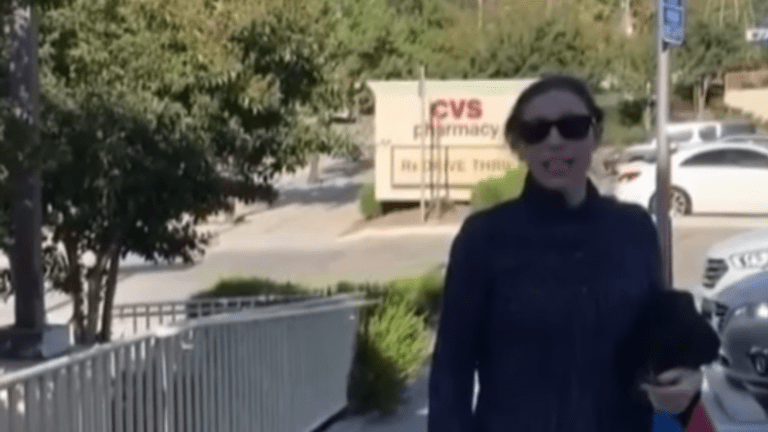 White woman goes viral after racist CVS outburst: 'I Hate N*ggers'
A white woman has gone viral after she was recorded delivery a hateful rant about her aversion to Black folks - proudly declaring "I hate n*ggers!" 
Heather Lynn Patton hails from California and was captured on camera mid-rant as she walked out of a CVS pharmacy.
At the beginning of the video, Patton is seen jumping up and down at the entrance of the CVS and yelling, "I hate n*ggers." A woman behind the camera then questions as to whether Patton "is on drugs or something," Patton replies, "no I just hate n*ggers."
"I would kill a n*gger, but the law says I can't kill the n*ggers. If the law didn't say I couldn't kill the n*ggers they'd all be dead!" she can also be heard screaming.
Adrene Ashford, who filmed the video, spoke to Heavy and explained that the offensive interaction took place inside the CVS before spilling out into the streets.
"I would like to take a stand and share my story," Ashford said. "I was in there shopping, and she started screaming and yelling at me in the store. I ran to the front and begged them to call police, and said 'she keeps calling me n*gger.'"
She started recording because she fully intended on filing a report with the police. Los Angeles Police Department who told KTLA-TV that a hate crime investigation is underway.
Several news outlets are reporting that Patton is a 49-year-old Los Angeles resident who works in the TV and movie industry as a costume designer, wardrobe assistant, costumer and in various other film crew roles.
Her neighbors claim that they have filed two restraining orders against her, telling KTLA-TV that Patton, "has a long history of erratic, unstable behavior and making violent threats to him and his family."