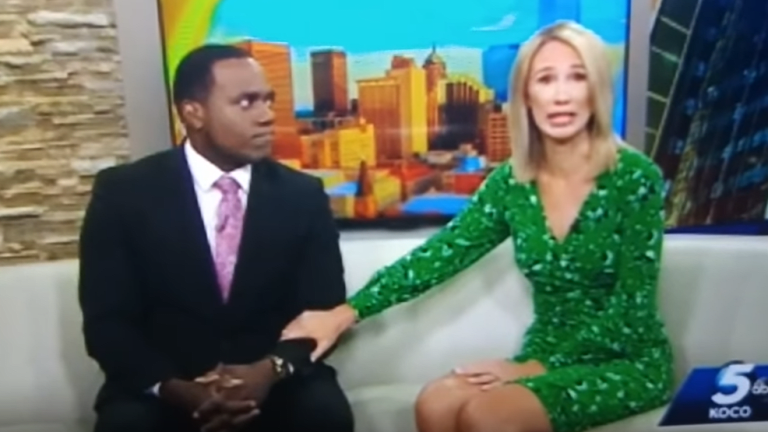 White News Anchor apologizes after comparing Black colleague to Gorilla on live television
An Oklahoma City news anchor has been forced to issue an apology after she compared her Black male colleague to a gorilla on live television.
KOCO morning anchor Alex Housden told James Hackett, at the end of a segment about a gorilla, that it resembled him.
"Kind of looks like you," Housden joked. 
Hackett paused.
"Yeah it does, actually, yeah," he said. "Very close to the camera."
But neither Hackett nor the general viewers appreciated her sense of humor and took to social media to express their disgust.
The morning after, Housden issued the following apology:
"I'm here this morning because I want to apologize, not only to my co-anchor Jason but to our entire community," she said while touching Hackett's arm.
"I said something yesterday that was inconsiderate, that was inappropriate, and I hurt people. And I want you to understand how much I hurt you out there," Housden continued, turning her eyes from the camera back to Hackett, "and how much I hurt you.
"I love you so much, and you have been one of my best friends for the past year and a half, and I would never do anything on purpose to hurt you," she said. "And I love our community, and I want you all to know from the bottom of my heart: I apologize for what I said. I know it was wrong, and I am so sorry."
Hackett gracefully accepted her apology:
"Alex, thank you very much," he said. "I do accept your apology, and I do appreciate your apology."
He then turned back to face the camera.
"I want to let everybody out there know that Alex is one of my best friends," he said.
"I do love you," he continued. "All that being said, and Alex would be the first to say this to you. What she said yesterday was wrong. It cut deep for me, and it cut deep for a lot of you in the community."