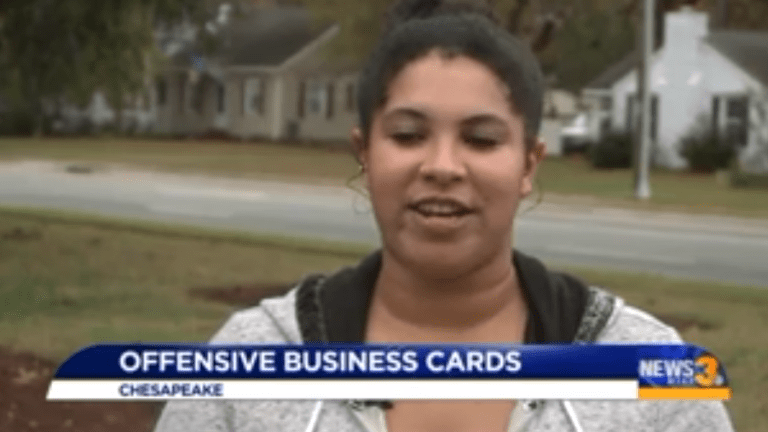 White Nationalist Business Cards Thrown at Black Woman in Virginia
A Black woman was shocked when a handful of business cards filled with swastikas and nooses were hurled at her.
Emily Crosby told WTKR that she was taking her mid-day walk during lunch last week when a car slowed down next to her and someone yelled out the window. She was not able to make out what the driver was yelling but she got the message when they threw a handful of business cards at her, promoting white nationalism.
On the back of one of the cards, it said "No multi-racial society is a healthy society" and, "If the White race is to survive, we must unite our people on the basis of common blood, organize them within a progressive social order, and inspire them within a common set of ideals."
Crosby said she was shocked and angry.
"It's just upsetting to know that people can't even go on a walk now without being targeted," she said.
She later shared her experience on Facebook. Alongside images of the cards she wrote,
"Every day during my lunch break I go for a walk just to get some exercise. At the beginning of my walk today I noticed what looked like a bunch of scattered business cards on the sidewalk and in the grass but I didn't think anything of it. As I was walking back towards work, a car stopped next to me and threw these cards and several others at me while shouting something that I didn't hear because I had my headphones in. They then sped off. After I picked them up and realized what they were I went back to the stretch of sidewalk where I saw all the little cards and realized there were dozens of them," she said.
"So people of color can't even go for a walk down the street without fear of being harassed just because of our ethnicity? The people that threw these at me have no idea what my race is and I'm sure they don't care. My skin is different than theirs and that's all they needed. They hurt my feelings more than I care to admit. Something has got to change. Please be kind to people."
The post has been shared almost 1200 times on Facebook and social media shared her upset and outrage on the post.
"It's getting out there and people are realizing that it is a problem and something needs to be done," Crosby said. "People asked me, 'Oh you're not going to walk anymore, right?' Like no, I'm going to keep walking. This is my 'me' time," she told News 3's, Erin Miller.