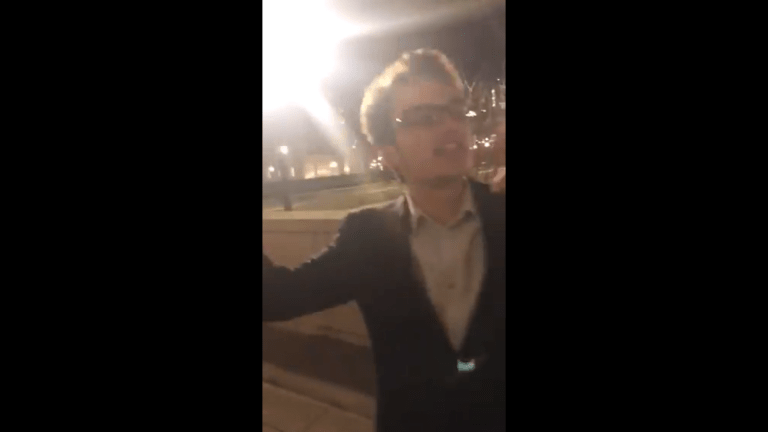 White Columbia Student goes in Racist Rant on Camera
A white student from Columbia is currently going viral after a video of him launching into a racist rant was captured and uploaded online.
The sophomore student allegedly yelled at fellow non-white students: "white people are the best thing that happened to the world," according to a video.
The Columbia Spectator quickly identified the student as Julian von Abele.
"We invented science and industry and you want to tell us to stop because, 'Oh my God, we're so bad!'
"We saved billions of people from starvation, we built modern civilization! White people are the best thing that ever happened to the world!" he claims in the video.
He continues on:
"White people are the best thing ever. I love myself and I love my people... F*ck yeah! White people," the student adds. "We're white people. We did everything. I don't hate other people, I just love myself. I just love white men."
Kwolanne Felix one of the targeted students was unimpressed by Abele's antics, telling the Spectator:
"I really hope that Columbia takes further action. They should definitely try to talk to the students that were affected by that and ensure everyone's okay because that's really hard to internalize" 
University senator Alfredo Dominguez, emailed university president Lee Bollinger, Columbia College dean James Valentini, and other officials, calling for disciplinary action.
"You can have arguments all you want about free speech and people being entitled to say what they want," Dominguez told the Spectator.
"But when that bubbles [into] assaulting black or brown people with that and then stalking them … you're getting into levels of hate crime and your speech being directly related to violence," he said.
Columbia has issued a statement denouncing the racist tirade.
"We are alarmed at the rise of incidents of racism and hate speech in our world today. It is more important than ever that we continually demonstrate our core values and restate our commitment to a diverse, inclusive community on campus. At Columbia, we stand firmly against white supremacist language and violence. As we said last week, our community will not waver in its support for those of any faith, race, gender, sexual orientation, background or identity," the statement reads.