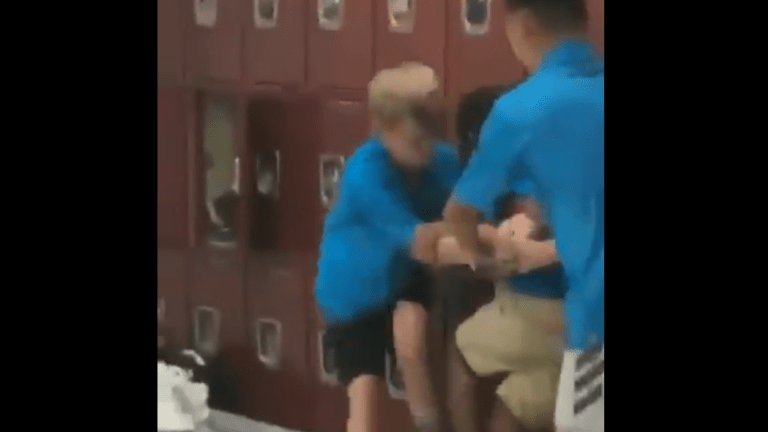 Video of White Blake Academy students attacking Black student sparks outrage
A Florida mother has spoken out after a video showing her son being attacked by a gang of white students in a school locker room in Polk County went viral.
In the video, Lauren Springfield's son is seen in a locker room, getting punched, kicked, kneed, and slammed to the ground by another student.
Her son is held down by several other Blake Academy students so his attacker could continue as remaining students recorded the incident on their phones.
"My son was attacked. In a violent, malicious manner …as one student repeatedly hit him over and over again, others not only held my son down so that the student could hit him but encouraged the attack. I am enraged," Springfield wrote on Facebook. "You hear the kids not only cursing but encouraging the attack and not stepping in to stop what was happening."
The attack lasted for over three minutes:
"The school nurse called us first and let us know our son was in the nurses office and could not give us any additional information," Springfield continued. "I got to the school to find a welt on my son's forehead and back of the head, a cut above his eyebrow and bruising all around his eye."
A Polk County, Florida school board member also addressed the incident via Facebook:
"A number of people are asking about the terrible videos shared last night. I was made aware of them by the father yesterday afternoon and immediately connected the family with our director of discipline, who told us both that a serious investigation was already in progress — about both the incident and the videos. I also apologized — and apologize —to the family that this happened."
He added that he does not think that Springfield should follow through with her plans to file a lawsuit against the boy who attacked her son.
The boy has been charged criminally and three other kids were disciplined by the school through the code of conduct policy.
The attacker was charged by police with misdemeanor simple battery and has been suspended for 10 days from school.