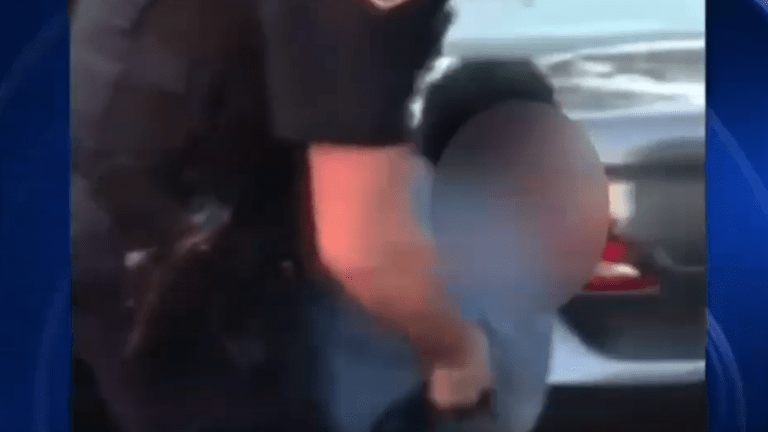 Video of cop handcuffing 9-year-old boy goes viral
A video of a D.C police officer handcuffing a nine-year-old Black boy for leaning on his car has gone viral.
In the video the nine-year-old is seen running away from the officer, however, the boy only stays within the intersection. You can hear others nearby laughing as the officer chases the boy in several circles around cars. Then an officer grabs the boy, who falls before he is taken into a corner and placed in handcuffs.
The nine year old's mother is stunned by the incident, which she recorded on her phone.
Autumn Drayton told Fox 5:
"I was devastated. I was devastated. I was traumatized for my son having to go through that," said Drayton. "His use of force was unnecessary. My son was not a threat. He was not committing a crime. He was not harming anyone. It should have never been to that." 
D.C.'s attorney general is reviewing how officers interact with children. Attorney General Karl A. Racine released the following statement in response to the video:
"The video capturing MPD's interaction with a 9-year-old boy on Monday is obviously concerning. In light of recent events involving MPD officers' interactions with children, the Office of the Attorney General (OAG) proposed, and the Mayor and Police Chief have accepted, the following:
* OAG will survey the practices of police and relevant law enforcement authorities across the country to identify the best practices related to police interaction with children;
* OAG will review the best practices against the current MPD orders and policies governing such interactions and will provide recommendations for improvement; and
* Relying on the best practices around the country, OAG will also recommend what changes, if any, should be made to the manner in which police officers are trained on the proper way to interact with children. 
"We look forward to working together with MPD and the Mayor's office to ensure District children are treated with the highest level of care and safety." 
Too little too late or is it better late than never?