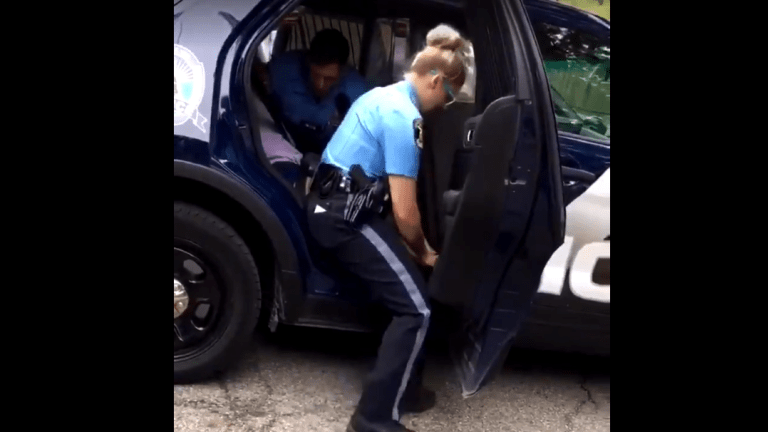 Video goes viral of Michigan Police Officer punching handcuffed Black teenage girl
Lansing, Michigan is facing backlash after a video showing one of their police officers punching a handcuffed, Black teenage girl, surfaced online.
Police Chief Michael Yankowski has revealed that he will oversee an internal investigation into the use of force by the officer in question.
The unidentified officer is seen striking the 16-year-old girl at least 16 times in the thigh while attempting to take her and a 15-year-old boy back to the Ingham County Youth Center they had fled from.
"Allegations or complaints against Department employees are taken seriously and thoroughly investigated," Yankowski said in a subsequent press release. "The Lansing Police Department holds its employees to the highest standards of professionalism and integrity."
The teen's mother, Tonia Lilly, wants answers for the way that her daughter was handled by the officers.
"I am appalled, I saw the press conference, standard procedure? If I punch my kid like that, it would be child abuse, so I don't see how a stranger can restrain a child by punching them," Lilly told WLNS.
In the two videos released (one bodycam video and one bystander video) the officers are seen shoving the girl into the squad car as she curses at them. The female officer then tries to shut the car door, before the girl sticks out her leg to prevent them from closing the door. The female officer then [punches her several times in the leg.
 "One of our officers used a training technique, what we call a strike to the thigh…I want to also state that it is the policy of the Lansing Police Department that officers will only use force when it's objectively reasonable."