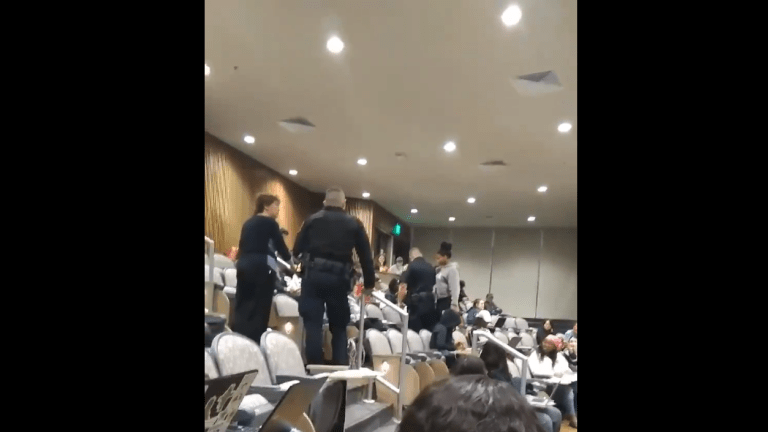 Univ. of Texas Professor Called Police on a Black Female Student During Class
San Antonio Police are investigating a professor at the University of Texas after she allegedly called police on a Black student, for putting her feet on a chair.
In a video which was shared on social media this Monday, several officers can be seen at the back of Prof. Anita Moss's classroom as she points at a student sitting in a middle row. The student, who is then approached by an officer, calmly gathers her things and leaves the lecture hall with them.
Student Apurva Rawal, filmed the incident. 
"So this happened today in class, a girl had her feet up and the professor called the police after calling our class uncivil 😬" he tweeted.
"This professor stopped class entirely and stepped out to call the police just because one student had her feet up on a seat in front of her. Mind you she wasn't talking or interrupting lecture
"The class before this professor went on a whole tirade about how uncivil we all were because a few students were on their phone or not paying attention, cutting lecture time for the rest of us because her ego was bruised
"As upset as I am that my professor decided to throw a temper tantrum the lecture before an exam and cancel class, I'm even more outraged that she would decide to single out and humiliate a student just to flex her authority in a destructive manner
"I chose to attend this university because of it's welcoming and inclusive atmosphere, and today's events genuinely make me concerned for not only my fellow students, but any future roadrunners that may choose to attend this institution in the future
"@UTSA you need to answer for this, because I know we as a university are better than this," Rawal explained.
The school did release a statement last night to the students via email and to their website.
"We are currently conducting two separate investigations into the matter, one on potential discrimination (conducted by our Office of Equal Opportunity Services) and the other on classroom management (conducted through the Provost's Office by Interim Dean Grimes in the College of Sciences)," wrote UTSA President Taylor Eighmy. "Provost Espy and I are committed to ensuring an equitable process for both the student and faculty member. Interim Dean Grimes and our EOS office are working quickly and diligently to gather the facts, and both the student and the faculty member have met separately with those conducting the investigations"
Eighmy explained that another professor will be taking over the class for the remainder of the semester.
"No matter the outcome of the investigations, the incident shows issues that extend far beyond the events of yesterday. The reactions expressed through social media, emails, phone calls and group meetings I've attended confirm that feelings of marginalization on the part of some students—especially our African American students—are real and profound," Eighmy continued.
The school vows to combat racial discrimination and to create a safer environment for students from all backgrounds.