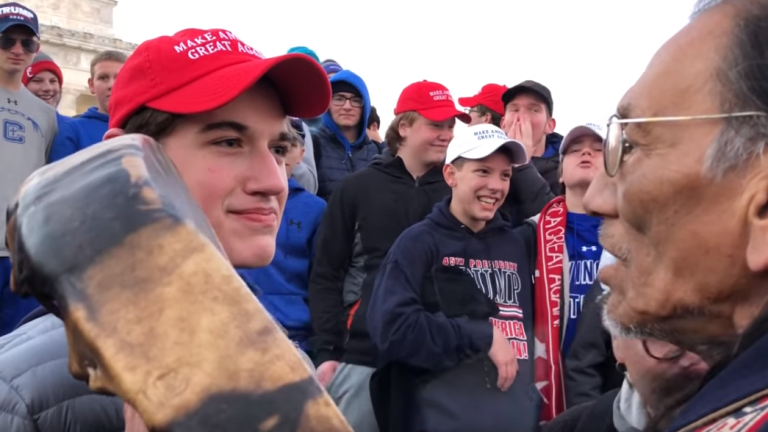 Twitter Blasts MAGA Teens who Mocked Native American
In the video, several white teenagers are seen taunting a Native American Vietnam veteran singing during the first Indigenous People's March on Friday, attended by Vice President Mike Pence.
The teens were reported to have been heard chanting "build that wall."
Here are some responses on social media to the MAGA teens:
"This is indigenous land, you're not supposed to have walls here. We never did for a millennia. We never had a prison; we always took care of our elders, took care of our children, always provided for them, taught them right from wrong. I wish I could see that energy ... put that energy to making this country really, really great," Nathan Phillips, who filmed the incident told CBS News.
Since then, the teenagers have been identified on social media as attending Covington Catholic High School in Park Hills, Kentucky. 
The Diocese of Covington and Covington Catholic High School released a statement saying that "the matter is being investigated and we will take appropriate action, up to and including expulsion."
"We condemn the actions of the Covington Catholic High School students towards Nathan Phillips specifically, and Native Americans in general, Jan. 18, after the March for Life, in Washington, D.C. We extend our deepest apologies to Mr. Phillips. This behavior is opposed to the Church's teachings on the dignity and respect of the human person," the statement read.