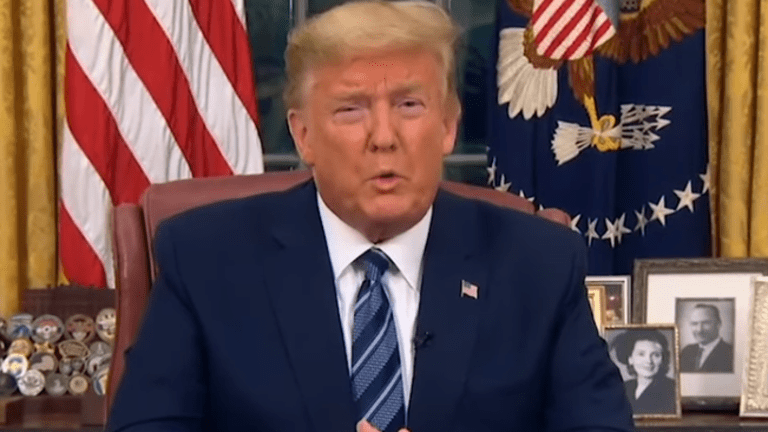 Trump suspends travel from Europe for 30 days amid 'foreign' coronavirus outbreak
President Donald Trump announced that his administration would be implementing a ban on travelers to the United States from Europe would be in place for the next 30 days.
The decision comes as the coronavirus outbreak continues to overwhelm global governments.
Calling coronavirus a "foreign virus," Trump attacked Europe for not taking the same actions to control the disease that he had. "As a result" of Europe's inaction, Trump said, "a large number of clusters" of coronavirus "were seeded by travelers from Europe." 
Trump that he would be asking Congress for legislative action to provide payroll tax relief, as well as instruct the Small Business Administration to "provide capital and liquidity" to small businesses.
"We have seen dramatically fewer cases of the virus in the United States than are now present in Europe," Trump said during his address to the nation. "The European Union failed to take the same precautions and restrict travel from China and other hot spots. As a result, a large number of new clusters in the United States were seeded by travelers from Europe."
Trump said the suspension of travel from Europe would not include the United Kingdom, and that there would be "exemptions for Americans who have undergone appropriate screenings."
"We are at a critical time in the fight against the virus," Trump said. "We made a life-saving move with early action on China. Now we must take the same action with Europe. We will not delay. I will never hesitate to take any necessary steps to protect the lives, health and safety of the American people. I will always put the well-being of America first."
The following nations are included in the ban:
Austria, Belgium, Czech Republic, Denmark, Estonia, Finland, France, Germany, Greece, Hungary, Iceland, Italy, Latvia, Liechtenstein, Lithuania, Luxembourg, Malta, The Netherlands, Norway, Poland, Portugal, Slovakia, Slovenia, Spain, Sweden and Switzerland.