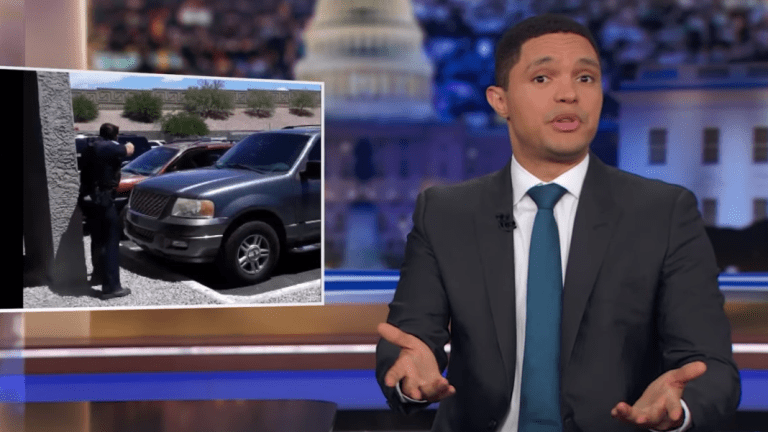 Trevor Noah slams Phoenix police for pulling out guns on Black family
Television personality Trevor Noah has slammed the Phoenix Police after they pulled out their guns on a Black family in a Family Dollar parking lot.
"There's no excuse for this," Noah said on his show. "There's no excuse. Unless maybe the cop says he arrests people in the way that he thinks that they speak. Maybe he's like, "Yo, Black man, get your ass on the ground. And as for you, ese, you better stop acting like a pendejo. And you, Belgian guy, I don't know how you speak. Waffles, waffles waffles."
Noah continued:
"I'm sorry, guys, you don't need to show up like a SWAT team to rescue a Barbie from a little girl," Noah said. "If anything, you should be rescuing the little girl from the Barbie. You should be getting there like, little girl watch out, that Barbie can give you a warped sense of what a woman's body is supposed to be!"
The incident Noah is referring to took place on May 27, when Phoenix officers responded to a report of a shoplifting incident at a Family Dollar store.
When the officers arrived, they were then told by a clerk about an unrelated shoplifting incident that had just occurred and were directed to three adults and two young children getting into a car in the parking lot. The officer then ran out and tried to speak to the occupants of the vehicle, yelling orders for the driver to stop.
Officer Christopher Meyer, is then heard yelling at Ames, "I'm gonna put a f*cking cap in your f*cking head."
"You would think that cops cursing at civilians and pointing guns at a 4-year-old child would be as bad as the story could get," Noah said. "But what makes it even worse is that if we didn't have these videos, those cops would have been able to paint a very different picture of how this all went down."
"You know what's most troubling about this," he added, "is that it makes you wonder how many people have been arrested and put in jail because everyone assumes the police version of events is always the truth. Time and time again, cellphone videos contradict the official reports.'"