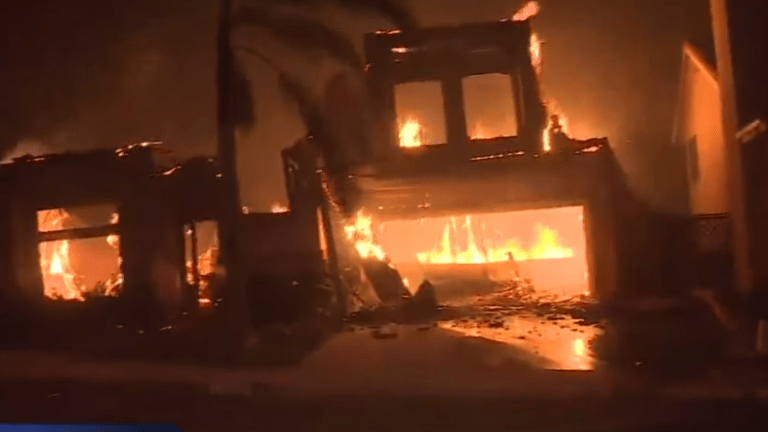 Thousands Flee as Wildfire Spreads Across Northern California
Ventura and Los Angeles counties have issued both mandatory and voluntary evacuations after two separate brush fires erupted just miles apart from each other.
According to KTLA, over 75,000 homes have been evacuated along the Ventura-Los Angeles County line, the brush fires being sped up by strong winds.
One of the fires broke out on 25000 Woolsey Canyon Road and was being pushed in a southwest direction by a 45 mph wind out of the north. L.A. County Fire Department said the fire had scorched about 8,000 acres and that is was 0 percent contained.
"*UPDATE* Fire is at approx. 8000 acres. 0% Containment. New Mandatory evacuation orders south of 101 fwy north of Potrero rd. between Westlake bl. & Wendy dr. Evacs. in Hidden Hills area of LA County and @LAFD operational area have been down graded to voluntary." the tweet read.
MANDATORY EVACUATIONS
Hills Fire
- Point Mugu Naval Base
- Camarillo Springs
- Vallecito Trailer Park
- California State University Channel Islands
- Dos Vientos neighborhood
Woolsey Fire
- All of Oak Park
- Bell Canyon: Saddlebow Road between Maverick Lane and Morgan Road
- All residents north of 101 Freeway, south of Bell Canyon Road, west of Valley Circle Boulevard
- North of Kanan Road
- West of Lindero Canyon to Erbes Road extending north to Sunset Hills Boulevard
- Thousand Oaks Blvd. north to Sunset Hills, from Oak Park west to Highway 23
- South of the 101 Freeway to Mulholland Highway, west of Las Virgenes Rd. to Westlake Blvd.
- Westlake Village
Schools in both counties have been shut down for Friday.