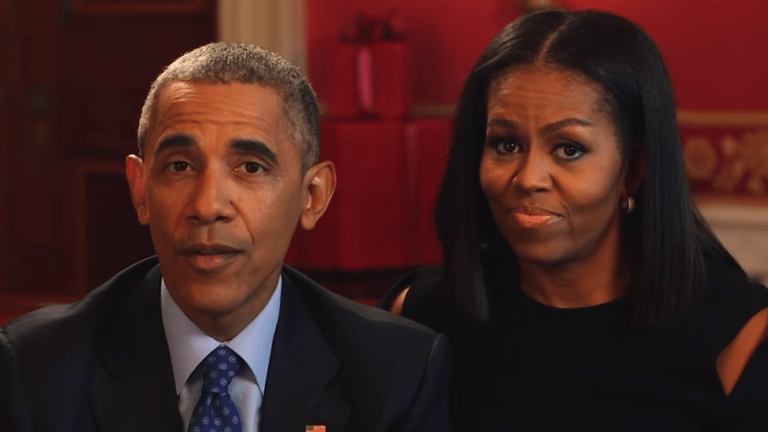 The Obamas Acquire Rights to 'The Fifth Risk' Book, Detailing Trump White House Chaos for Netflix Deal
The Obamas have acquired the rights to Michael Lewis' latest book, The Fifth Risk under their Netflix production deal.
According to Deadline, the acquisition is possibly for a series aimed to help people better understand the inner workings of the government.
However, we shouldn't get our hopes up just yet. Barack and Michelle are reported to be exploring projects but the series has not yet been given the green light. It is being reported that author Lewis will make his official announcement r today on Katie Couric's Thursday podcast. The Fifth Risk was released on Oct. 2 from W.W. Norton. 
Here is the book's synopsis:
'The election happened ... And then there was radio silence.'
The morning after Trump was elected president, the people who ran the US Department of Energy - an agency that deals with some of the most powerful risks facing humanity - waited to welcome the incoming administration's transition team. Nobody appeared. Across the US government, the same thing happened: nothing.
People don't notice when stuff goes right. That is the stuff government does. It manages everything that underpins our lives from funding free school meals, to policing rogue nuclear activity, to predicting extreme weather events. It steps in where private investment fears to tread, innovates and creates knowledge, assesses extreme long-term risk.
And now, government is under attack. By its own leaders.
Lewis told Couric that the series would be "a civics lesson…I did three departments, because it would be the work of many lifetimes to do the whole government, but you could do this in a fun way across the entire government."
This isn't the first book of Lewis' which would be adapted for the screen. His 2009 book, The Blind Side: Evolution of a Game was adapted into a film which grossed over $300 million worldwide. The movie starred Sandra Bullock who went on to win Bullock went on to win the Academy Award for Best Actress, as well as the Golden Globe Award for Best Actress and the Screen Actors Guild Award for Outstanding Performance by a Female Actor in a Leading Role.