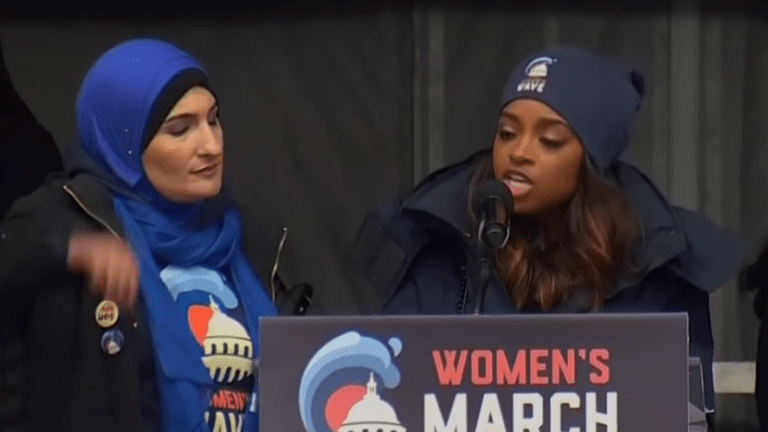 Tamika Mallory, Linda Sarsour step down from Women's March Board
Co-Chairs of the Women's March, Bob Bland, Tamika Mallory, and Linda Sarsour have stepped down from the board.
The original member's parted ways from the board on July 15, but the organization is just now announcing the shakeup.
"Women's March, a women-led movement founded to harness the political power of diverse women and their communities, announced today the appointment of 17 movement leaders from all walks of life and experiences to its national Women's March Board. The goal of the new board is to continue to ignite civic imagination and action in communities all across the country," the statement from the organization reads.
"Founding Women's March Board Members Tamika Mallory, Bob Bland, and Linda Sarsour will transition off of the Women's March Board and onto other projects focused on advocacy within their respective organizations."
Women's March organized three of the four largest mobilizations in the nation's history.
"The new board consists of leaders from a wide variety of communities, disciplines, ethnicities, religious beliefs, gender identities, and experiences. New board members are Samia Assed, Zahra Billoo, Charlene Carruthers, Mrinalini Chakraborty, Rabbi Tamara Cohen, Rev. T. Sheri Dickerson, Sarah Eagle Heart, Lucy Flores, Ginny Goldman, Ginna Green, Shawna Knipper, Isa Noyola, Carmen Perez-Jordan, Kelley Robinson, Rinku Sen, Leslie Templeton, and Lu-Shawn Thompson."
Mallory came under fire earlier this month after she refused to cut ties with Nation of Islam leader, Louis Farrakhan. The Jewish community has accused Farrakhan of being anti-semitic.
"I first went with my parents when I was just a little girl, and would begin attending on my own after my son's father was murdered nearly 17 years ago. In that most difficult period of my life, it was the women of the Nation of Islam who supported me and I have always held them close to my heart for that reason," she said back in March.