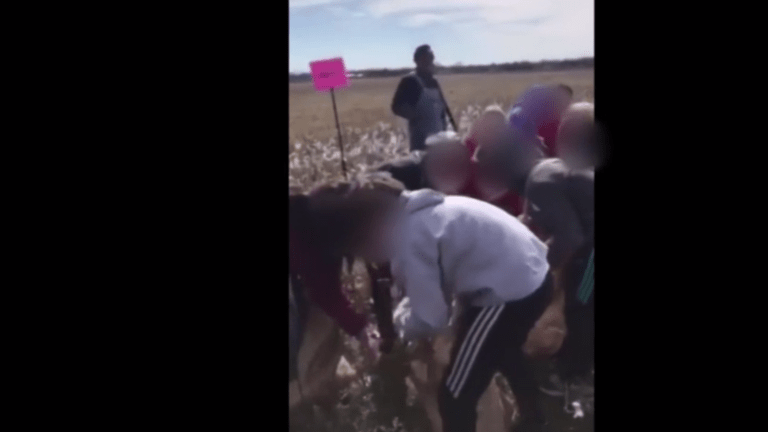 South Carolina students instructed to pick cotton, sing slave song as "game"
A school in South Carolina is facing backlash after it reportedly told students to pick cotton and sing a slave song as part of a "game."
A mother of a 10-year-old student told local news that her son and his classmates were told to sing "I like it when you don't talk back, make money for me," as part of a class field trip during Black History Month. 
"I'm livid right now," Jessica Blanchard told Fox News. 
"I'm African-American and my ancestors picked cotton. Why would I want my son to pick cotton and think it's fun?"
The video of the fifth graders from Ebenezer Avenue Elementary in Rock Hill, picking cotton was captured on video by a teacher and sent to their parents. 
In another video, the kids are seen filling their sacks and singing:
"I like it when you fill the sack. I like it when you don't talk back. Make money for me."
"I think it's making a mockery," said Blanchard. "A mockery of slavery. A mockery of what our people went through."
Fox reporter Matt Grant spoke to a few of the students involved
"What did your other classmates think about all this?" asked Grant.
"They thought it was funny," said Jamari, who says he thought picking cotton was a fun game.
"It was a contest," he said. "Whoever picked the least amount of cotton had to hold a big sack called 'Big Mama.'"
The incident took place at the Carroll School, and Grant spoke to Wali Cathcart, 81, an instructor and former student. He attended the school in 1943. The son of sharecroppers, this retired cotton farmer now shows kids firsthand what he and his parents had to do to survive. 
"We need innovation in the education system," said Cathcart. "Not just lecturing children in a classroom telling them something. There's nothing better than hands on."
He then denies that it is a race issue and blew the incident off as humor.
"What do you say to people who find this offensive and say this trivializes slavery?" asked Grant, on behalf of Blanchard.
"I'd certainly love to answer that question because I deal with this issue all the time," said Cathcart. "One of the problems when it comes to African-American people is that they fail to understand history in its proper context, and, because of that, we are at a disadvantage today.
"This program is not about that [slavery]," he said. "This program here is centered around the Great Depression of the 1930s, so slavery is not the predominant issue."
Rock Hill Schools spokesman Mychal Frost stopped the interview.
"That's done in third grade, Matt, that is not the topic of this interview," Frost told Grant putting his hand in front of the camera. 
"The interview is about the Great Depression. You can continue the interview, but we're not going to go off script. Do you understand?"
Rock Hill Schools statement: 
"The Carroll School field experience is a unique learning opportunity for all 5th grade students in Rock Hill Schools' elementary schools. As one of the only remaining Rosenwald Schools in operation, the school exists to promote understanding about our past, specifically the Great Depression and schooling in America. The students are afforded an opportunity to learn directly from two local men, one of whom is a former student of The Carroll School, who lead students through a variety of hands-on activities and experiences. As part of the fifth-grade curriculum, students study the Great Depression time period, and this field trip helps students make real-life connections to this era in American history." -Mychal Frost, Director of Marketing and Communications, Rock Hill Schools.