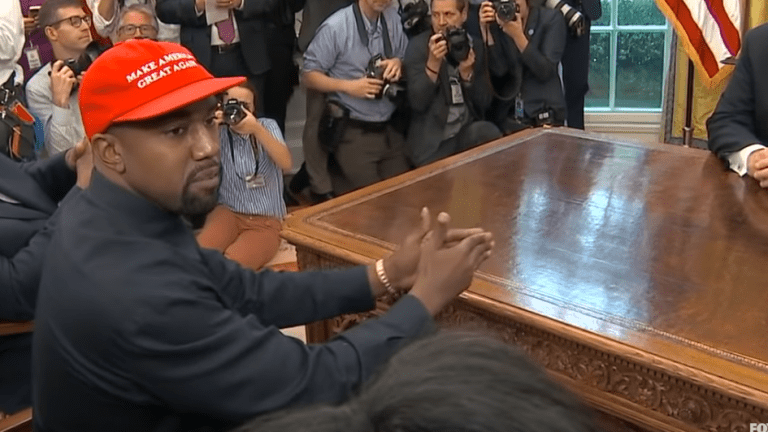 South Carolina Bank Exec Attended Halloween Party In Blackface As Kanye
Blackface is never cool. It wasn't cool decades ago when white people depicted us as boot-licking sambos, and it isn't cool in 2018 - not even during Halloween.
Obviously, the friends of Bryan Lenertz don't love him enough. This weekend, Lenertz, an executive at the Anderson Brothers bank, attended a Halloween party with his wife where they decided to go as one of Hollywood's most prolific couples - Kim Kardashian and Kanye West. In a photo which now is making its way around the internet, Lenertz can be seen in Blackface, a mock gold chain, a camo jacket, and shades. To cap off the look, Lenertz even donned the infamous MAGA cap.
His wife's outfit was slightly less offensive. It does appear that she grabbed a bottle of tanning lotion to perfect the look, she wore a black top, skirt, and sunglasses, pretty standard Kim 'fit.
According to TheRoot.com, an anonymous source approached them and about the racist costume. His friends and family were huge fans of the couples #HalloweenGoals. A screenshot on the site shows comments from them praising the costumes - names and all.
Why he would pose for the picture in the first place is startling. Unfortunately for him, TheRoot.com got the scoop and he's about to go seriously viral. Lenertz' bosses wont appreciate the negative attention. You know how Black Twitter gets down! Whether he keeps his job after this remains to be seen.
The responses to the post continue to roll in. Here are some of the responses to Lenertz's ignorant blunder.
"What part of no blackface don't they understand???"
"What kinda friends do these people have ...."
"Its been some instances that the black ink never came off. Not a big fan of neither. This bum banker needs to be fired"
"Can we give him the full black experience now...I will dress as a white cop and beat the shit out him... #JustSayin"
"The costume itself isn't bad he could have been Kanye with just the clothes, and not doing anything to Change his skin tone"