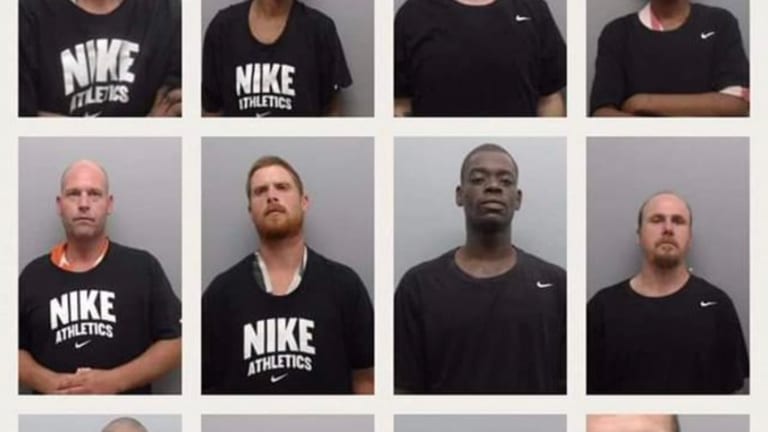 Sheriff Forces Inmates . .  To Wear Kaepernick-Inspired Nike In Mugshots!!
An Arkansas sheriff has come under fire for allegedly forcing new inmates to pose for their mugshots wearing Nike t-shirts.
Journalist and activist Shaun King shared the images of the mugshots via his Instagram page.
"The Sheriff in Union County, Arkansas is putting Nike t-shirts on people they arrest and making them wear them during mugshots.‬ ‪Source says it is to mock Nike and Colin Kaepernick," he wrote in the caption.
As you can expect, his followers were horrified and blasted the sheriff for his ignorance.
"This is sick. It's still shocking how disgusting humans are... it shouldn't be, but it is," one user wrote.
"These people are insane.....they seriously wish they had slaves," typed another disgusted viewer,
According to the Arkansas Gazette, one of the Nike t-shirts worn could be seen in mug shots as far back as July, before the Sept. 3 announcement of the Nike-Kaepernick deal.
Since Nike's campaign with former 49ers quarterback Colin Kaepernick, for many, the has become a symbol for both social and corporate justice, and a target for alt-right America. Kaepernick came under heavy scrutiny from both the NFL and the White House when he made the decision to kneel during the pre-match national anthem in protest of police brutality and racial inequality - when players are expected to stand. President Trump even went so far as to state that players who knelt during the anthem should lose their jobs. the move was seen as a warning to any other players considering taking a knee. Team managers also stepped forward to echo Trump's sentiments, forcing many players to toe the line.
Kaepernick is currently embroiled in a legal battle with the NFL for collusion as the team leaders allegedly banded together to ensure that he would not land another contract. Back in August, arbitrator Stephen B. Burbank agreed to forward the grievance to trial.
"Colin Kaepernick's complaint alleging that his inability to secure a player contract since becoming a free agent in March 2017 has been due to an agreement among team owners and the NFL that violates Article 17, Section 1 of the collective bargaining agreement between the NFL and the NFLPA (union)," said Burbank.
Kaepernick's Nike campaign was praised by the African American community and while Trump supporters burned their Nike's in a backward revolt against the brand's support of the much-beloved activist, their attempts were futile. Both Kaepernick and Nike remained unscathed, Nike already having secured a new 10-year contract with the NFL.
While it seems things are looking up for Kaepernick, the White House cannot seem to keep his name out of their mouths.
It was reported that at a recent Trump rally, GOP Senate candidate Lou Barletta (Philadelphia), "this economy is so good that even Colin Kaepernick found a job".
After going viral the mugshots have since been removed by the Union County Sheriff's Office. At 11 of the 182 mugshots that were taken down showed that the Nike shirts were worn over their own clothing. No disciplinary action has been taken against the sheriff in question.