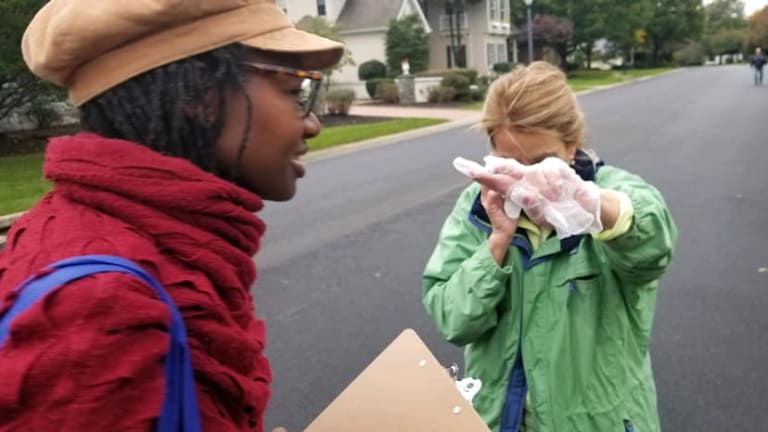 Republican Official Calls Police on Interracial Couple for Spreading 'Socialism'
An interracial got quite a shock when they returned home to find the cops at their home by police after a local Republican official accosted them for spreading "socialism." 
And their crime? Campaigning for a Democratic candidate in her Pennsylvania gated community. Amanda Kemp and her husband, Michael Jamanis, were not residents of the Bent Creek community but were granted after giving the name of a voter they planned to visit.
According to WITF-FM, the voter wasn't home, but Kemp and her husband figured that as none of the gated community's rules specifically prohibited canvassing, they would just drive to the next voter on their list.
Kemp then explained that white woman with gardening shears, later identified as Elizabeth "Duffy" Johnson, said:
"What are you doing here? You can't do that here."
They then explained that they were there to canvas for Democratic candidate Jess King, when the woman became loud and aggressive.
"I hate Jess King," Johnson allegedly yelled. "She's trying to take us to socialism. You can't do that here."
Pennsylvania's Bent Creek has been listed as one of the wealthiest 1,000 neighborhoods in the U.S. and is nearly 90 percent white.
Johnson then took the couple's picture but covered her face when they tried to return the favor. Kemp later shared the images in a public post on Facebook. "All of this is private property," she told them. "You can't be in here at all. I'm calling the police."
As she dialed the police, Kemp and Jamanis, got ready to exit the Bent Creek community and immediately reported the incident to the campaign volunteer headquarters. As they prepared to leave, a police car pulled up approximately five minutes later. The officer spoke with Jamanis before determining no criminal violations had taken place.
"This matter is about trespassing. The volunteers from Jess King's campaign entered private property and became aggressive," said Johnson's attorney Edwin Pfursich. "They were asked to leave and refused, so the police were notified."
"There was an undertone," Kemp said. "Her attitude really reinforces racial attitudes about inequality."