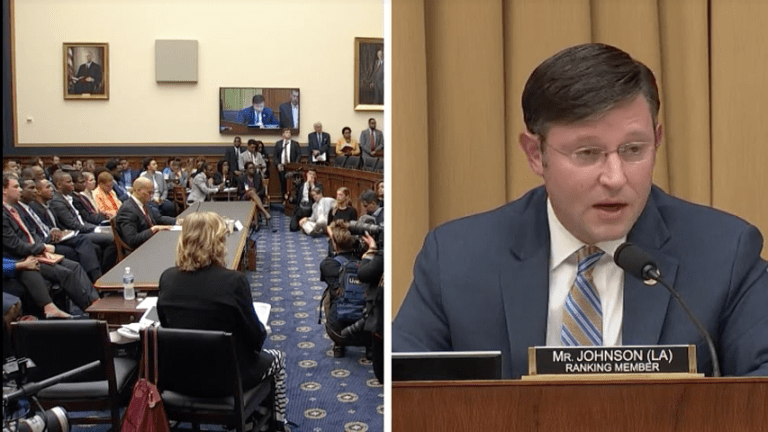 Rep Mike Johnson Uses his Black Son as a Pawn for Anti-Reparation Debate
Louisana lawmaker Rep. Mike Johnson made some unpopular comments during this week's reparations debate. After revealing he has a black son, many speculated whether Johnson's confession was sincere or just a manipulative tool to support his anti-reparations stance.
While discussions of Wednesday's House hearings continue to be debated, layers of the participant speeches are still being dissected. During his speech opposing reparations, Mike Johnson made alarming comments that he had adopted black son.
In a perceived effort to strengthen his case, Johnson disclosed that during the onset of his marriage, he and his wife Kelly "took custody" of a 14 year of black teenager. This comment is most surprising, as Johnson had never mentioned his son Michael before.
"Many of my colleagues in this committee may not be aware, in addition to our four children at home, my wife and I have a much older son who happens to be African American. We took custody of Michael and made him part of our family 22 years ago when we were just newlyweds and Michael just 14 and out on the streets and on a dangerous path."
While the verbal confirmation of a black son was never instigated during the hearing, Johnson's motive to reveal this particular fact at that moment is suspicious. It not only questions the legitimacy of this adoption, but also his moral intentions.
Though the nature of his relationship with son Michael is unclear, what can be argued is the redundant use of black culture and black people as accessories. Does Johnson have the right to declare a black child as his family to be used for political gain, when he does not utilize that same parental energy in his public life? If Johnson's coworkers and own younger children were not aware of this person, nor is he mentioned in Johnson's biographies, can or should, the public believe it?