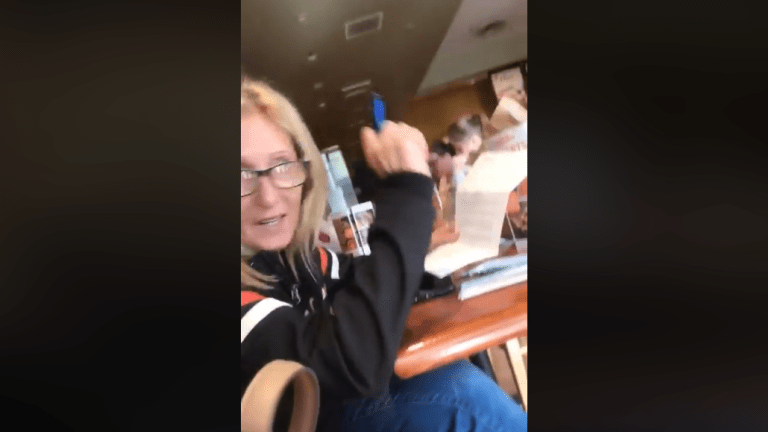 Racist White Woman Caught on Camera: "I'd Prefer the Whole Nation to be White"
A racist white woman is going viral when a recording of her telling a Latina woman that she "prefer the whole frickin' nation to be white" was posted on social media.
Lennys Bermudez Molina told local news outlet, CBS5 that she had been charging her car outside the Wildflower Bread Company before she decided to go in and have some food and work on her laptop. The restaurant was full so she asked a woman sitting alone if the seat next to her was free.
"I said excuse me, is it OK if I sit here next to you and she said, 'well, do I have a choice?'" said Bermudez. "At first I thought I didn't hear her right," she said as the woman responded, "Do I have a choice?"
The video begins with the racist claiming that "the whole freaking nation wants to be white." When Bermudez told her that's not going to happen, to which the white woman responded, "you will be wiped out, trust me."
In the post, Bermudez wrote:
"So this happened today. I hate to say the political climate is to blame for someone's outrageous behavior, but I was visibly shaken today with this exchange. I simply asked the woman if I could sit down next to her while I waited for the car to charge. 
I noticed she was attentively reading her papers and wanted to be respectful and not interrupt. I asked, " Would you mind if I sit next to you?" Seems pretty simple. That is when things got crazy!! 
Her reply, "Do I have a choice?" 😳
I was so shocked, I asked her to repeat it so I could see her face. Something in me said I should record it, too. Thank God I did! What you see next left me speechless...
"You will be wiped out...trust me." ❌ That was a threat! 
Fast forward...she was asked to leave the restaurant. The manager of the store that kicked her out also walked me to my car for safety. 
I know that the scars of racism run deep in this great country I love. Being Puerto Rican, I am a proud American 🇺🇸...and equally proud Puerto Rican 🇵🇷. This lady was lucky my PR-ness didn't come out!! 
I wish for a world for my children and my children's children's to never worry about this stuff...but then again, we are who we are."
The comments section is filled with people blasting the stranger's ignorance and praising the Wildflower Bread Company for ejecting the bitter woman for her hateful remarks.
You can view the exchange above.