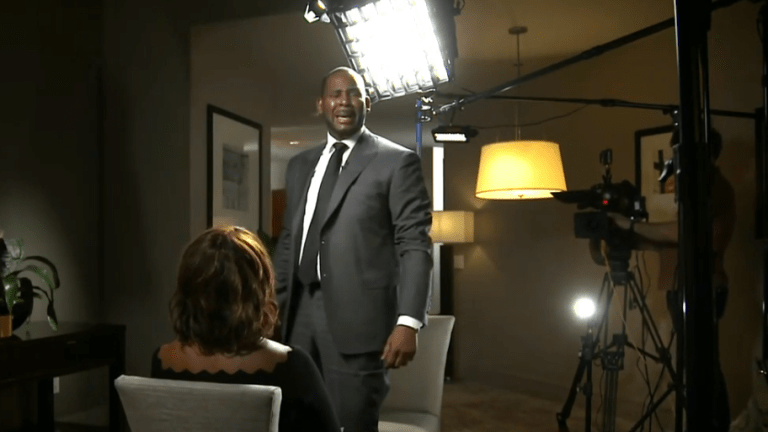 R. Kelly answers to allegations of child sex abuse in emotional interview
R. Kelly does not give too many interviews, so when CBS announced that they would be airing an interview with Kelly on 'CBS This Morning,' many were surprised that the star had agreed to speak about his alleged crimes on camera.
Kelly vehemently denied the claims of sexual misconduct with minors
"I don't need to. Why would I? How stupid would it be for R. Kelly, with all that I've been through in my way, way, past to hold somebody — that's stupid," he raved to the camera.
At times during the interview, Kelly spoke directly to the cameras instead of Gayle King who was conducting the interview.
"That's stupid! Use your common sense. Forget the blogs, forget how you feel about me. Hate me if you want to, love me if you want. But just use your common sense. How stupid would it be for me, with my crazy past and what I've been through – 'oh, right now I just think I need to be a monster and hold girls against their will, chain them up in my basement, and don't let them eat, don't let them out, unless they need some shoes down the street from their uncle!' - Y'all quit playing. Quit playing. I didn't do this stuff. This is not me. I'm fighting for my f*cking life."
But the interview did not start off in such an explosive way.
"What are the lies that you're hearing that disturb you most?" King asked him.
"Oh my God. Um... all of them, got little girls trapped in the basement… helicopters over my house trying to rescue someone that doesn't need rescuing because they're not in my house," replied a near-tearful Kelly.
"Handcuffing people, starving people," he added. "I have a harem, what you call it—a cult. I don't even really know what a cult is. But I know I don't have one."
Kelly stood up, waving his hands and pointing his fingers, protesting his innocence.
"I don't want you just ranting at the camera," King said.
"I came here for them to hear me talk. I need help!" Kelly said.
"What kind of help?" King asked him.
"This is the kind of help I need. I need somebody to help me not have a big heart, because my heart is so big. People betray me, and I keep forgiving 'em!"
Not missing a beat, King responded: "You sound like you're playing the victim here. You sound like, R. Kelly—you do. I listen to you and it does sound like you're playing the victim card."
"I'm just telling the truth," he said. "I'm just telling the truth. And the reason I'm emotional—and I apologize for that.."