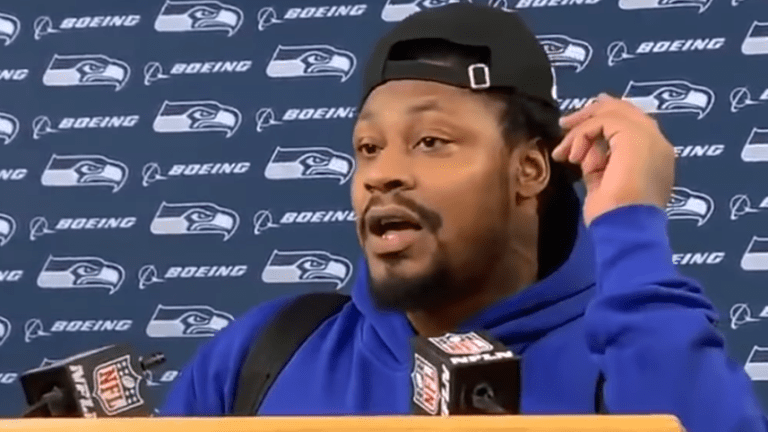 Princeton students 'disappointed' as Marshawn Lynch is named class day speaker
You can't please everybody, and that's certainly the case for students from the graduating class at Princeton University, who say they have been left "disappointment" at the school's choice of Seattle Seahawks running back Marshawn Lynch as their class day speaker.
The anonymous group of senior class members published an op-ed in the student-run campus newspaper.
The class day co-chairs praised Lynch for always having "prioritized community engagement and empowerment by leveraging his prominence as a professional athlete to promote opportunities for civic engagement and social justice" in the announcement that he had been tapped at the class speaker.
But the anonymous group of students disagreed in the article published in the Daily Princetonian.
"The thought process behind the selection of [Kemper and Booker] is apparent," the students wrote. "In the selection of Marshawn Lynch, however, it is not evident what the set of criteria for nomination are.
"[M]embers of the senior class who were not aware of Lynch tried to learn more about his identity and relevance to our Class Day ceremony," they wrote. "Among articles that praised his NFL career and philanthropic contributions, we came across articles discussing Lynch's reticence with the media and his terse responses at press conferences.
"In 2013 and 2014, for example, Lynch was fined $50,000 and $100,000 for refusing to speak to the media. During the 2015 Superbowl Media Day, Lynch famously responded to multiple questions with variants of 'I'm just here so I won't get fined.' With no other frame of reference, such reports caused confusion over the set of criteria that led to his nomination."
Well, the anonymous students can rumble amongst themselves about the choice of speaker because Princeton has not walked back on its decision.