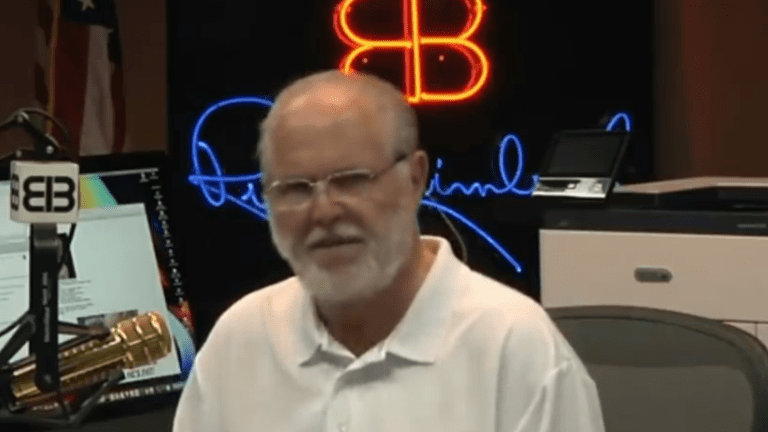 Political commentator Rush Limbaugh announces he has 'advanced lung cancer'
Conservative political commentator Rush Limbaugh shocked his 20-million member audience by announcing that he has been diagnosed with "advanced lung cancer."
"This day has been one of the most difficult days in recent memory, for me, because I've known this moment was coming," Limbaugh said. "I'm sure that you all know by now that I really don't like talking about myself and I don't like making things about me... one thing that I know, that has happened over the 31-plus years of this program is that there has been an incredible bond that had developed between all of you and me."
He continued, "So, I have to tell you something today that I wish I didn't have to tell you. It's a struggle for me because I had to inform my staff earlier today," he said. "I can't help but feel that I'm letting everybody down. The upshot is that I have been diagnosed with advanced lung cancer."
The radio personality is a staunch Trump supporter and even attended his November 2018 rally for President Trump in Missouri.
"I thought about not telling anybody," he said. "It is what it is. You know me, I'm the mayor of Realville. This has happened, and my intention is to come here every day I can, and do this program as normally and competently and expertly as I do each and every day because that is the source of my greatest satisfaction professionally, personally."
"I told the staff today that I have a deeply personal relationship with God that I do not proselytize about, but I do, and I have been working that relationship tremendously," he said. "I am, at the moment, experiencing zero symptoms.
"I felt that I had to tell you because that's the kind of relationship that I feel like I have with those of you in this audience," he said. "Over the years, a lot of people have been very nice, telling me how much this program has meant to them but, whatever that is, it pales in comparison to what you all have meant to me."
In the past Limbaugh has made headlines for his overtly racist points of view. 
Limbaugh once referred to George Steinbrenner as a "Cracker who made African-Americans millionaires." He has also claimed that Barack Obama and Oprah Winfrey were only successul because they are Black. He's also referred Obama as "uppity" in the past and even called Gov. Paterson a "massa."
The radio veteran has been touted as one of the most powerful voices in Conservative radio.