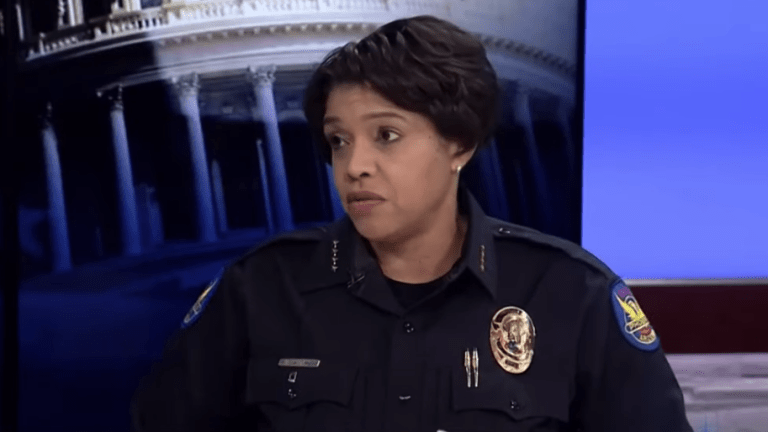 Phoenix Police apologizes to family over shoplifting incident
Phoenix Police Chief Jeri Williams has apologized to family over a now-viral shoplifting incident.
Police officers pointed their guns at the family and even yelled profanities at them after they accused their four-year-old daughter of stealing a doll from a store.
"Every time I look at that video, it's extremely unsettling," Phoenix Police Chief Jeri Williams said in an interview with KNXV-TV in Phoenix on Sunday. "It's not in keeping with what I expect from our employees."
The chief's statement comes just days after a $10 million notice of claim, which was sent to the city of Phoenix on behalf of Dravon Ames, 22, and his fiancee, Iesha Harper, 24. The couple were seen on the video being arrested by the officers.
The shocking incident took place May 27, when Phoenix officers responded to a report of a shoplifting incident at a Family Dollar store.
When the officers arrived, they were then told by a clerk about an unrelated shoplifting incident that had just occurred and were directed to three adults and two young children getting into a car in the parking lot.
According to Williams, an officer ran out and tried to speak to the occupants of the car, yelling orders for the driver to stop, but the car kept going, Williams said. 
Officer Christopher Meyer, is then heard yelling at Ames, "I'm gonna put a f*cking cap in your f*cking head."
The driver did stop and let out the female passenger who had warrants out for her arrest. She was taken into custody.
The mayor of Phoenix says she was "sickened" by the video.
"I, like many others, am sick over what I have seen in the video depicting Phoenix police interacting with a family and young children," Phoenix Mayor Kate Gallego said in a statement. "There is no situation in which this behavior is ever close to acceptable. As a mother myself, seeing these children placed in such a terrifying situation is beyond upsetting."