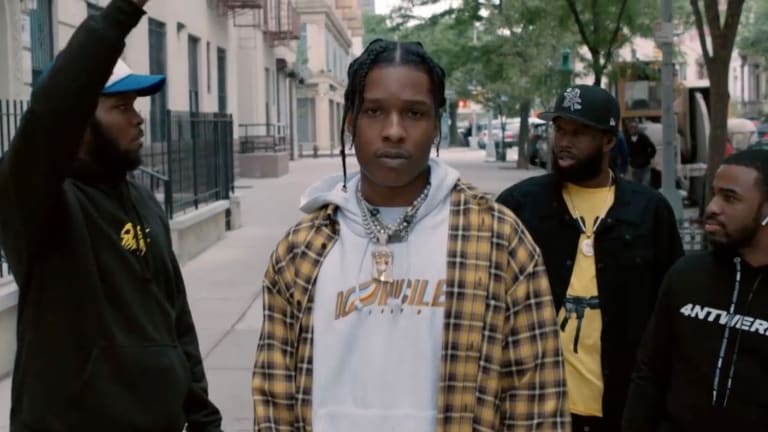 People Refuse to Sign ASAP Rocky's Prison Petition After His #BlackLivesMatter Comments Resurface
A$AP Rocky is currently in a Swedish jail cell after he was arrested for participating in street fight. Denied bail, artists and fans have come to support the rapper, while others revist comments he made about not supporting the #BlackLivesMatter movement.
Last week, A$AP Rocky was arrested after a video of the rapper and his entourage fighting two men in Sweden went viral. While he claimed self-defense, posting 2 videos of the men following and harassing him before the fight erupted— Swedish law has sentenced him to 2 weeks detainment.
An outcry of support immediately came for Rocky online and in the music industry. While A$AP Ferg has aided his friend with legal aid and a petition to release him, others were not as responsive, reposting a quote Rocky said in a 2015 interview.
When asked whether he would address racial and political issues, A$AP Rocky responded insensitively saying, " I don't wanna talk about no fucking Ferguson and shit because I don't live over there! I live in fucking Soho and Beverly Hills. I can't relate."
The resurfaced Time Out New York interview has thousands of likes and retweets, with users agreeing that they will not be supporting the rapper.
This raises the question: as a celebrity, does A$AP have a responsibility to use his platform to raise awareness for political movements and those in marginalized communities, especially when those communities are filled with and affected by people who are fans that look like him?
Should we be supporting an artist who otherwise would not support a community in desperate need of international awareness that only a celebrity can provide? Rihanna has proven that one can keep their impeccable celebrity status while simultaneously advocating for others through social media posts displaying injustice.
So is A$AP entitled to his ignorance or does he deserve the same energy he gave the Black Lives Matter movement?