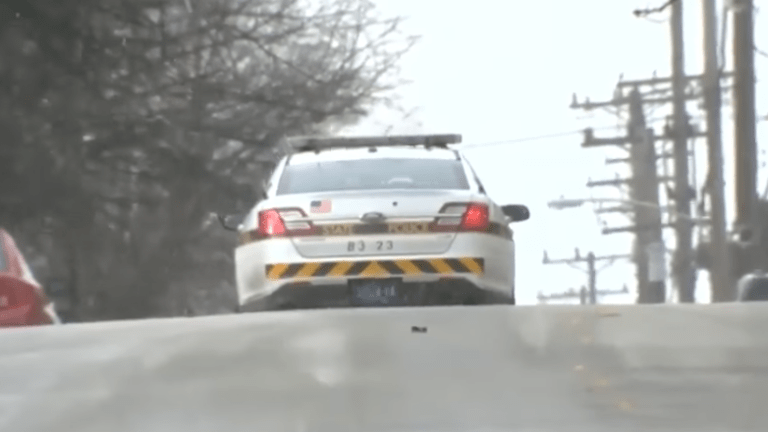 Pennsylvania State Police clears officers of racial profiling after following Black man home
Pennsylvania State Police have said that their officers did not racially profile a Black man who was followed by officers in his car.
On Jul. 8, Rodney Gillespie claims that two white officers tailed him as he drove his sleeping wife and daughter to their home in a wealthy Philadelphia suburb.
Officer put on their sirens and tried to get Gillespie to pull into to a dark laneway, but he was terrified to do so.
"I knew my house was lit with lights," Gillespie told BuzzFeed News. "What other place do you think is safer than your house?"
He continued driving until they reached his driveway, where he says that one state police officer screamed at him to get out of the car. Both officers upset that he did not pull over earlier.
"This is a small street, I didn't want to get killed," Gillespie says in the video. They asked how old he was, before sharing that they were worked up because he kept on driving and did not stop as soon as they motioned for him to pull over.
"You all kill black people, I didn't want to get killed," replied Gillespie. After the exchange, he was briefly placed in handcuffs before being issued a traffic violation.
After the incident, Gillespie and his lawyer, Sam Stretton, filed a complaint against the Pennsylvania State Police.
"In the matter brought forth by Mr. Gillespie, the complaint of bias-based profiling was not sustained. As depicted in the video, the traffic stop was initiated only after troopers observed a clear violation of the vehicle code when Mr. Gillespie's vehicle failed to maintain its lane of travel, crossing over the center line," their statement reads.
"Failure to yield to the marked patrol vehicle in a reasonable amount of time after its lights and sirens were activated, or otherwise acknowledge the presence of the troopers, heightened officer safety concerns and resulted in Mr. Gillespie being detained while troopers verified his identity."
The department has cleared themselves of any wrongdoing - and their statement seems to imply that it was Gillespie who escalated the situation by not immediately pulling over.
Gillespie now plans to file a lawsuit in the matter, telling BuzzFeed that he fears state police will continue to treat other black people in the same manner.
"If you never think 'there's a problem, 'you'll never address an issue," he said.