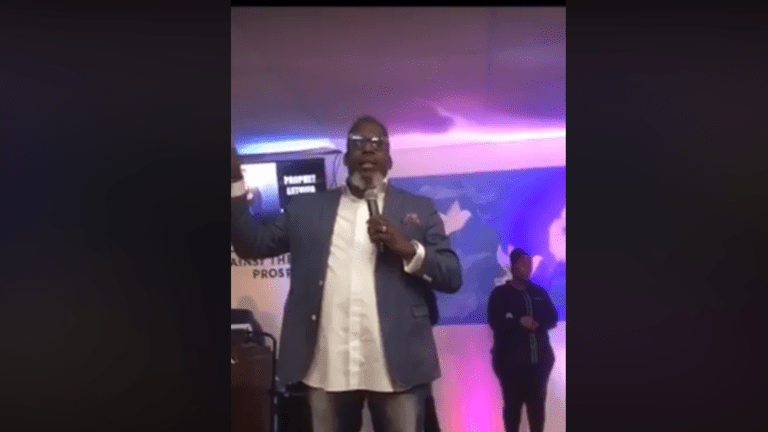 Pastor Under Fire for Ejecting Man in Drag from Church
A pastor has come under fire by the public for asking a man in drag to leave his church and put some "man clothes on."
Chicago Pastor Antonio Rocquemore told the man "I hold a standard in here. Whatever you do on the outside is your business, but I would not let drag queens come in here."  
"When you come into this house, if you're a man, dress as a man; if you're a woman, dress as a woman," added the pastor.  
The video has been viewed over half a million times on Facebook alone. As Rocquemore continued to shame the man, members of his Powerhouse International Ministries congregation can be heard agreeing with his radical views.
"I don't do no bashin', because everybody is strugglin' with something. But what I'm not gonna do is allow you to disrespect the house of God -- I can't do it, the pastor continued.
Christian James Lhuillier shared the video and wrote.
"#longpostalert Some of y'all are going to have to excuse my language but I am tired of this shit. In a place that is supposed to be a place of change a place of deliverance whatever you want to call it why would you destroy someone in front of a room full of people. This is the kind of BS that causes people to go home and commit suicide. This is the reason that the church has no power in 2018 because they are so worried about the wrong things. I know drag queens and transsexuals that can pray you out of sickness faster and some of these preachers that collect your love offerings every Sunday. We spend too much time trying to make ppl comfortable in church on some BS that I truly believe that Is on the bottom of gods list if it's there at all. Hear me and hear me well I know a lot of you do not agree with the way that I live my life notice I didn't say choose! I was made this way. If it makes you uncomfortable avoid me but keep your comments thoughts and prayers on that topic to yourself I don't need them me and God are OK. I would have turned that church clean out do you hear me!!!!!!!!! It's time for us to stand up for what we believe and stand in our truth and walk away from these ministries that bash who we are. Too many illegitimate relationships have been created trying to conform to a mold you were never meant to fit. I have a great deal of respect for the house of God. But I wish upon wishes upon wishes that had been me. The city of Chicago would never forget my name!"
Lhuillier is not backing down.
The pastor posted a video doubling down on his original stance, but it as since been deleted.