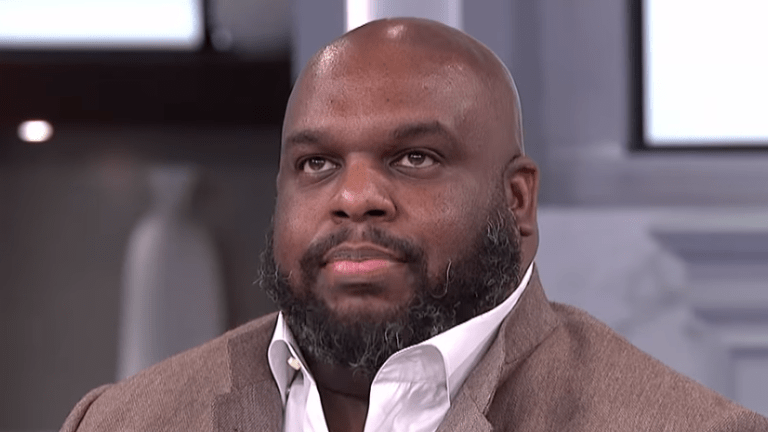 Pastor John Gray denies 'physically' cheating on wife
Pastor John Gray was recently caught up in scandal after it was revealed that he cheated on his wife, but he denies that anything physical ever took place.
The pastor paid a visit to 'The Real' where he spoke candidly about his infidelities:
"Over a year ago, my wife and I were in a very difficult place in our marriage, and in that time, I began to converse with someone — other than a counselor, other than a pastoral leader, which is where I should have taken my issues and challenges — and began to converse, and I was even in the presence of that person one time," Gray said. 
"But being in the presence of someone is not the same as sleeping with them. I did not sleep with anyone."
He was also eager to shut down the rumors that he had gotten the mystery woman pregnant:
"There's no baby, none of that. It's important for me to take responsibility for the areas where I did come up short. Sharing things about my marriage, outside of my wife and outside of trusted counselors, is an emotional affair. It was wrong. I take responsibility for that. But I will not take responsibility for that which I did not do."
Watch the clip below.
Pastor Gray was slammed by social media in December 2018 after a video of him gifting his wife $200,000 luxury SUV surfaced online. He claimed that he pays his taxes and had not used the church's money. The following month, he admitted to cheating while standing beside his wife.
"And then I prayed for them and him and then the devil loses," his wife told the congregation. 
"Because what's not going to happen is you tell me that I'm going to lose my purpose because someone whispered to a '16-year-old John'. The devil is a lie. I'm standing with my husband, and you can go on back to the pits of hell where you came from... Was I upset? Yes. Was I heartbroken? Yes," she said. "But you better learn how to get in there for the — what's the vows? — better and worse so when the worst shows up you don't run away."