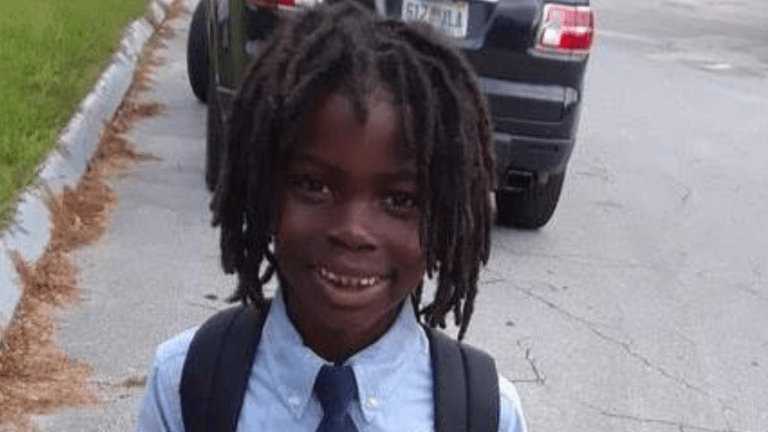 Parents Sue Orange County Private School over Dreadlock Banning
The parents whose 6-year-old son was banned from entering his new school because he wore dreadlocks have filed a state complaint the school
Clinton Stanley Sr. took his son to enroll his son, also named C.J., to the Book's Christian Academy using a tax credit scholarship. When he turned up for his first day, he was turned away from the school who cited"dreads, Mohawks, designs, unnatural color, or unnatural designs," as the reason for refusing him.
Alongside the ACLU and NAACP Legal Defense and Educational Fund, Clinton Stanley Sr. is suing the school, claiming that the school violated the 1964 Civil Rights Act.
"Private schools participating in the Florida Tax Credit Scholarship Program must comply with the oversight and accountability mechanisms of Florida law," NAACP Legal Defense Fund lawyer Angel Harris wrote in a 9-page complaint. "Florida law requires private schools participating in state school choice scholarship programs, such as A Book's, to comply with the anti-discrimination provisions of Title VI of the Civil Rights Act of 1964."
The suit alleges that private school targeted an African-American hairstyle as a reason to prohibit access, creating racial discrimination.
"Clinton Jr. has experienced significant emotional distress as a result of the incident on the first day of school. Mr. Stanley fears his son will feel shame or stigma because of his natural hair," it states. "This incident has also prompted Mr. Stanley to have difficult conversations with Clinton Jr. about race for the first time."
"It's not right for a school to take taxpayer dollars while singling out and shaming Black natural hair," he wrote on the ACLU blog. "On behalf of my son and other Black children in my community, I'm urging the Florida Department of Education to hold A Book's Christian Academy accountable."
Department of Education spokeswoman Audrey Walden will be looking into the complaint.
"The Florida Department of Education does not condone discrimination of any kind in Florida schools," Walden said.