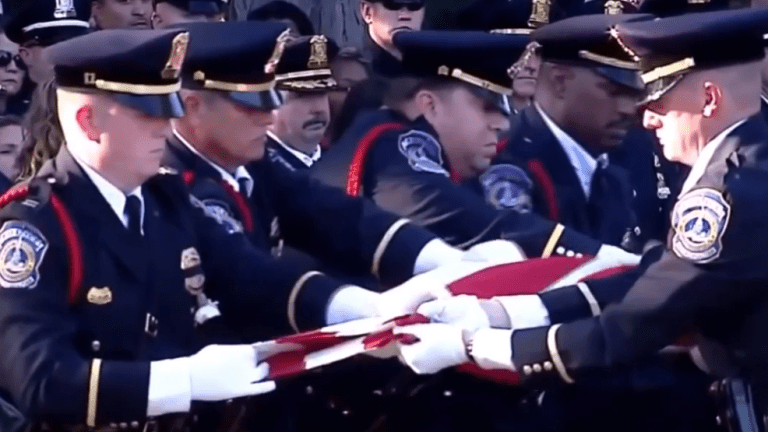 Oregon County to Pay Black Employee $100k Over 'Blue Lives Matter'
A county in Oregon has agreed to pay a $100,000 settlement to a Black employee after a 'Blue Lives Matter' was pinned up in her office.
According to reports, Karimah Guion-Pledgure claimed her workplace became hostile and racially insensitive after the flag was posted up in her office.
Guion-Pledgure then sued Multnomah County after claiming that she was harassed and that the Blue Lives Matter flag "demeans" the Black Lives Matter movement. The flag remained up six months after Guion-Pledgure first complained about it, so she created her own "equity wall," which displayed photos of people of color who had been killed by cops. 
The flag was hung by a probation officer above his desk in September 2017 and supervisors and was not asked to take it down despite several of her other co-workers agreeing that the flag was inappropriate. She claimed she was harassed because of her stance and faced "discrimination and retaliation" while working as a corrections technician for the county.
Guion-Pledgure's attorney Ashlee Albies told the Daily News her client didn't want to file a lawsuit, but felt there was no other way to bring attention to the issue and stop the workplace harassment she was experiencing.
"She's disappointed that she has to leave there and that they couldn't make it a safe and welcoming work environment," Albies told Oregon Live. "They say they're working on that, and we hope they really are."
"She was out of work quite a lot," Albies said. "It was incredibly stressful for her. I think it's important that she take care of herself."
Guion-Pledgure originally had sought $420,000 in her lawsuit, which was filed in Multnomah County Circuit Court.