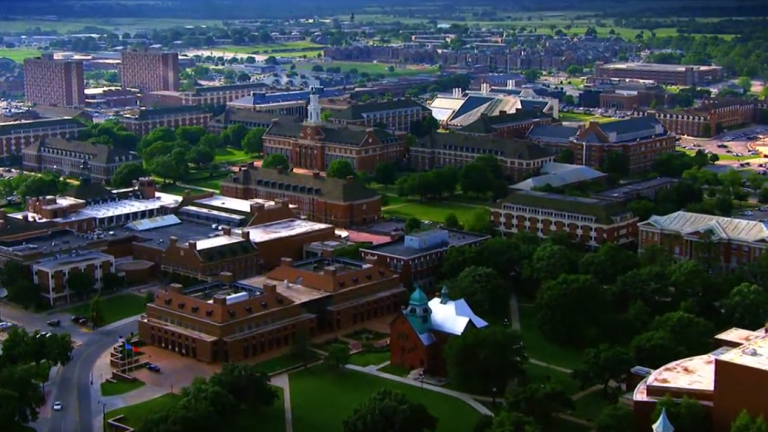 Oklahoma Student Apologizes for Leaving Racial Slur on Receipt
An Oklahoma State University student has been booted from his fraternity after writing a racial slur on a receipt at a restaurant.
Preziosita Crawford, a student at the University of Oklahoma was shocked to find a racial slur scrawled across one of her receipts. She hopped onto Twitter over the weekend to tweet a picture of the receipt as well as screenshot of the culprit, Bradley Lasher's Twitter account. 
"After working a 16 hour shift yesterday I was delighted to see that one of Stillwater's very own decided to leave a heart warming note at the bottom of his receipt... Next time you can stay in Stillwater because we don't need your racist kind around here 😉 @Brad_Lash41," she tweeted. 
Lasher, a marketing student from Flower Mound, Texas was a member of OSU's Delta Tau Delta fraternity. Since the receipt went viral, he has since been expelled from the fraternity.
OSU has responded to Crawford's tweet saying, "OSU has been made aware of this incredibly hurtful and insensitive action. This does not represent the university's values or its diverse community and OSU leadership have been alerted."
Lasher has deleted his Twitter account. He has released the following statement to O'Colly News.
"I apologize for my actions this past weekend in Norman and take full responsibility. I realize that many people are offended and deeply hurt by what I did. What I wrote down on the receipt was not meant to be directed at anybody in particular and I should have just signed my name. I wrote a word that is completely unacceptable and should never be used. My behavior does not reflect the moral values that have been instilled on me from a young age and who I am as a person. I apologize to the waitress that was directly affected by my actions and I hope the harm I caused her can be healed, and in time she and others will accept my apology.

I also apologize to the Oklahoma State University community. The OSU family does not stand for this and what I did does not represent their values or my own. Lastly, to the people of Norman, I apologize deeply for bringing that word into your great town. What I did is not like me at all and I have resigned from my on campus job so I can spend time learning from this and growing as a person. I have been working with the University and meeting with officials to establish a plan going forward. 

I know this was hurtful to many people, and again I deeply apologize and hope over time I can be forgiven by the communities that I have offended. Thank you."