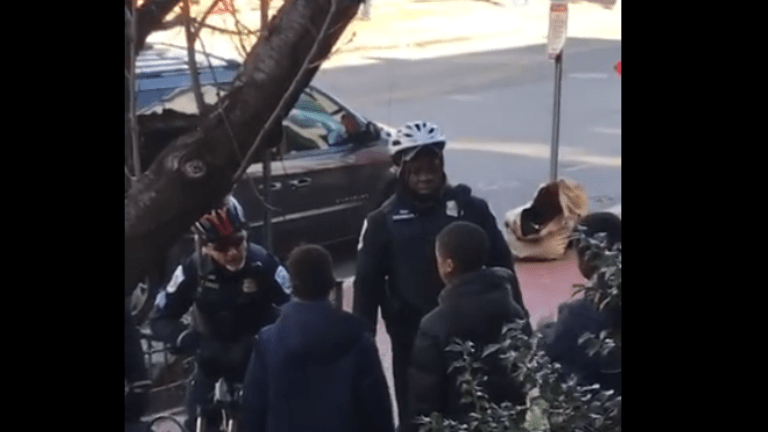 Officers Stop and Frisk 3 Young, Black Children
A video showing three black boys being stopped and frisked by seven police officers has gone viral.
The incident took place in Southeast, D.C. just days before Christmas. The group of boys were reported to be between the ages of 9-12 years old.
Shared originally on Facebook by Ariel Gory, the video shows the seven officers questioning the boys after an elderly man called police saying three young people threatened him and pulled out a knife.
Gory wrote in a lengthy Facebook post:
"The officers asked the boys a series of questions. I recorded and listened. Officer Ivens Thermidor was very irritated by the fact that I was filming and addressed me sarcastically saying that I should come closer. (Video Clip 1: Notice that after the officer points out that I am recording, the officers check that their body cams are on.) The boys were 9, 11 and 12. They were on their way to the barbershop. One of the officers explained that they are being accused of assaulting an old man down the street at CVS. The boys described how almost the opposite happened - the old man threatened them, saying that he was going to hit them with his cane and that he followed them into CVS."
He explained to local news how he felt about the whole ordeal.
"The boys — from what I was hearing — were saying that that's not how the story went and that actually the man was threatening to hurt them," Gory told WUSA9.
"I think that for me it was really hard to see," Gory explained. "They were so little, and their bodies are just so small, and their pockets are being dug into. Their little legs are being touched. I think that it just seemed probably a little bit of a scary moment for them. I felt scared and sad also for them."
The elderly man who reported the boys to the police did not want to press charges. No weapons were found and the young boys were returned safely to their family.