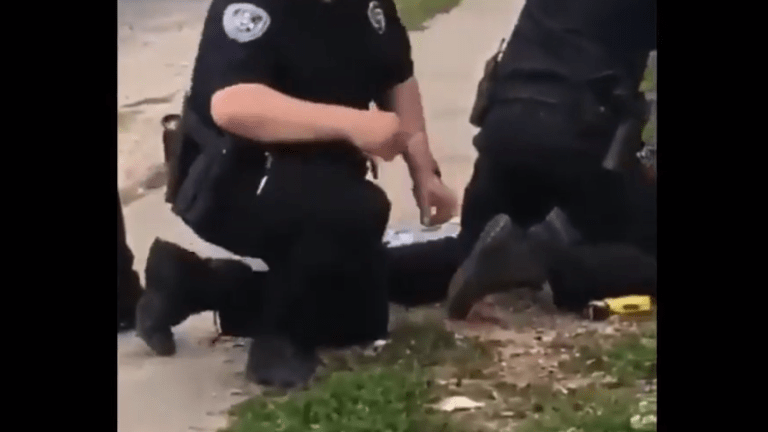 Officer who was caught on video allegedly planting drugs on Black man
Louisiana officials have released a statement to say that they are investigating a viral video that allegedly shows an officer planting drugs on a Black male suspect.
According to the statement released by the Jefferson Parish Sheriff's Office, the incident took place in Bridge City, Louisiana. Officers were responding to a call about a man wearing a red T-shirt and tie-dye pants selling drugs in the neighborhood. 
The officers then approached a man who they say fit the description, but after the man allegedly resisted arrest. After struggling with the suspect, they managed to get him into handcuffs.
The arrest was captured on a passerby's mobile device, as well as a group of officers surround the man as he lays on the sidewalk.
"There ain't no crack in the bag ..." the suspect informs them. "Are you serious?"
Then, in a shocking turn of events, the footage appears to show an officer place a small bag with a white substance on the ground. Bystanders then yell at the officer, informing him that he is being recorded.
 "Get out the way! Go inside!" he yells while walking towards the recording device.
"The video in question is part of the evidence that has been collected in this case, the sheriff's office wrote in a statement. "It has been alleged by third parties that evidence on the scene was planted by one of our deputies. Our on-scene deputies have been interviewed in this matter and gave reasonable explanations to the actions depicted in the video."
The drugs that were allegedly planted on the suspect were taken into evidence.
"The arrested individual was not booked with any narcotics charges," the JPSO statement read, "but will face charges for battery on an officer, battery on an officer with injury, and resisting arrest with force or violence."