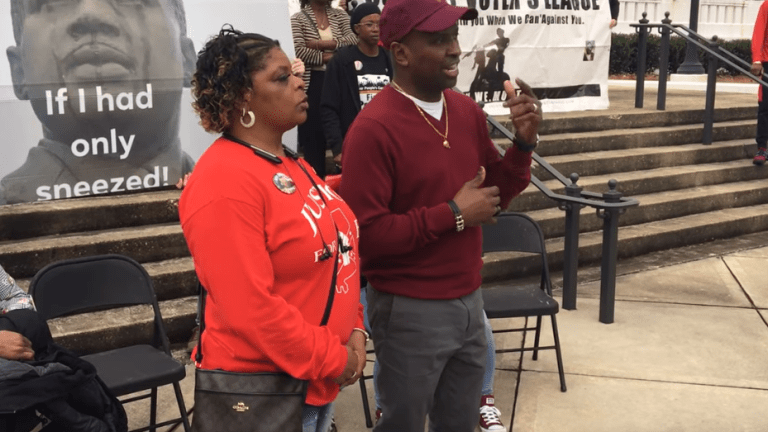 Officer who killed Emantic "EJ" Bradford Jr will not be charged with his death
The police officer who killed a Black man after mistaking him for a shooter in an Alabama mall, will not face charges.
The officer shot 21-year-old Emantic "EJ" Bradford Jr. three times after identifying him as a gunman who opened fire at the Riverchase Galleria Mall, but later withdrew their claims after evidence proved that he was not the alleged gunman.
On Wednesday, Alabama Attorney General Steve Marshall released the following statement: 
"Alabama Attorney General Steve Marshall today informed the Hoover Police Department and the Alabama State Bureau of Investigation that he has concluded that the Hoover police officer who shot and killed Emantic 'E.J.' Bradford Jr. at the Riverchase Galleria mall on November 22, 2018, did not commit a crime under Alabama law and thus will not be criminally charged for his actions.
"The Attorney General further noted that it was his understanding that the Federal Bureau of Investigation had reviewed the matter and found no evidence to initiate a case against the officer for civil rights violation(s)."
The statement continued:
"Also this morning, the Attorney General's Office showed surveillance video of the shooting death of E.J. Bradford Jr. to Bradford's parents and attorneys, who had requested to be shown the video and to have it released to the public."
"You shoot my firstborn son three times, three kill shots and you call this justice. How dare you. If this happened to your child, would you still call it justice? Because I don't see any justice in this," Bradford's mother, April Pipkins, said in front of reporters outside of Hoover City Hall.
"He didn't deserve what you did to him. . . . If you felt like he was a threat, you had to shoot him three times? And you say that the law justifies this? No verbal warning. Shame on you. Shame on you." 
No justice for Emantic. Activists vow to fight on.