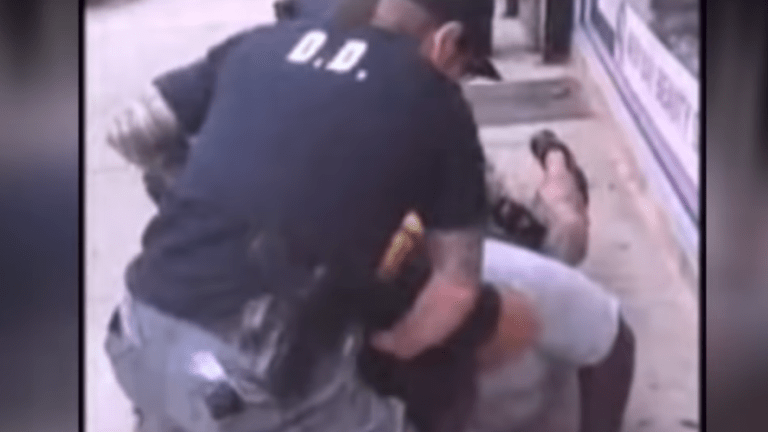 NYPD cop accused of using killing Eric Garner with illegal chokehold to face departmental trial
The New York Police Department officer who is accused of killing Erica Garner by using a banned chokehold will face a departmental trial, according to reports.
According to the Daily News, a lawyer for NYPD Officer Daniel Pantaleo had argued that the Civilian Complaint Review Board does not have the jurisdiction to prosecute him in the trial room at One Police Plaza because the complaint against Pantaleo was filed by a woman who didn't witness the incident. The death was caught on videotape.
Garner, 43, was tackled to the ground by cops for allegedly selling loose untaxed cigarettes. Garner was placed in a chokehold banned by the NYPD and forced to the ground. In the footage, Garner told the cops "I can't breathe" 11 times.
Manhattan Supreme Court Judge Joan Madden refused to issue an injunction to delay a Monday start for the departmental trial.
"It's been five years since this tragic incident," Manhattan Supreme Court Judge Joan Madden said. "And the Garner family, the police officer and the public should have resolution of these issues in this trial."
Following the decision, Garner's mother, Gwen Carr, outside of the courthouse and had some strong words for Pantaleo's attorneys, claiming that they "try every trick in the book to keep the case from going forward."
"We all saw Eric being murdered on camera," Carr said. "They are still trying to sweep this under the rug. I am appalled at the way they are treating my family."
"As Deputy Commissioner of Trials Rosemarie Maldonado already decided and Justice Madden today confirmed, the Civilian Complaint Review Board is the appropriate body to prosecute Officer Pantaleo," CCRB Chair Fred Davie said.
"We anticipate a fair and thorough process as we move toward closure for the Garner family and the City of New York."