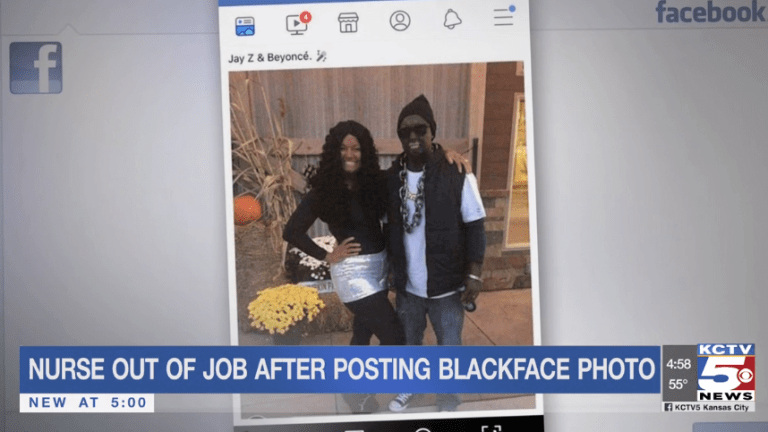 Nurse Fired For Blackface Beyonce Halloween Costume
A Missouri nurse has been fired after a photo of her blackface Beyonce Halloween costume went viral.
The St. Luke's Hospital nurse, Shelbi Heenan, posted the offensive photo to social media showing her rocking full blackface, donning a long, black, wavy wig. In the image, her arms are draped around a male (also in blackface) who appears to be dressed as the entertainment mogul and Grammy award-winning rapper, Jay Z.
Of course, social media was quick to check her and wasted no time in sharing her racist pic. The image very soon caught the attention of her bosses at work, who promptly released the following statement:
"On Monday afternoon, Saint Luke's Health System became aware of a Saint Luke's East Hospital employee who posted photos on personal social media accounts of her and another individual dressed in blackface for what appears to be a Halloween event. This information was shared with appropriate health system personnel and an investigation was initiated immediately. 
While it is against Saint Luke's policy to comment on specific personnel matters, we can confirm that this individual is no longer a Saint Luke's employee. Saint Luke's is deeply committed to our culture of diversity and inclusion. It is fundamental to who we are as an organization and we vigorously protect it on behalf of all our patients and employees and expect those who represent us to do the same."
The story comes just a day after bank executive Bryan Lenertz' blackface Kanye West photograph hit the interwebs. Lenertz was showing out in blackface, a mock gold chain, a camo jacket, and shades and the infamous MAGA cap.
Heenan has since deleted her Facebook profile.
When will they learn?