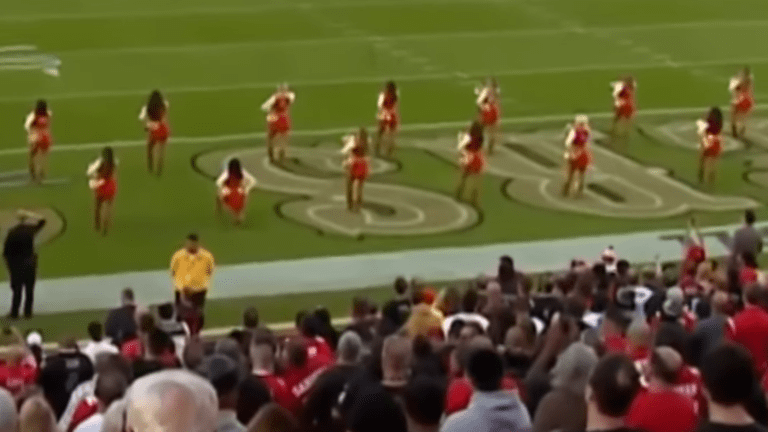 NFL Cheerleader Takes a Knee During National Anthem at Raiders-49ers Game
A cheerleader for the San Francisco 49ers took a knee during the national anthem prior to San Francisco's 34-3 win over the Oakland Raiders this Thursday.
The unidentified cheerleader was the only one from her team to stage the bold protest, but her bravery was captured by members of the crowd at Levi's Stadium and the footage was captured and uploaded to social media.
For those who haven't connected the dots, the 49ers are the former team of Colin Kaepernick, who knelt during the anthem in protest of police brutality and social injustice back in 2016. Kaepernick's protest led to him being blackballed from the NFL, with president Trump taking to Twitter to berate Kaep and other players who were kneeling in protest.
Social media has already hailed the protester as a hero.
"One of the cheerleaders for the #49ERs NFL team kneeled during the #NationalAnthem. Unbelievable. That takes a lot of courage," somebody wrote.
"The courage to do this shouldn't be underestimated," said BBC Sports broadcaster, Richard Conway.
Others doubt whether other cheerleaders will be following suit.
"Bottom line, cheerleaders are a little fish in a big pond," broadcast journalist and former Jacksonville Jaguars cheerleader Michele Wright told Elle. "Although they are of great worth and value to the football experience and their respective communities, many are undervalued. So to remain neutral, they wouldn't take a knee." 
Cheerleaders are reported to barely make minimum wage and receive no health benefits for their contributions to the game.
But we hope others follow this bold, brunettes lead. It takes a village.