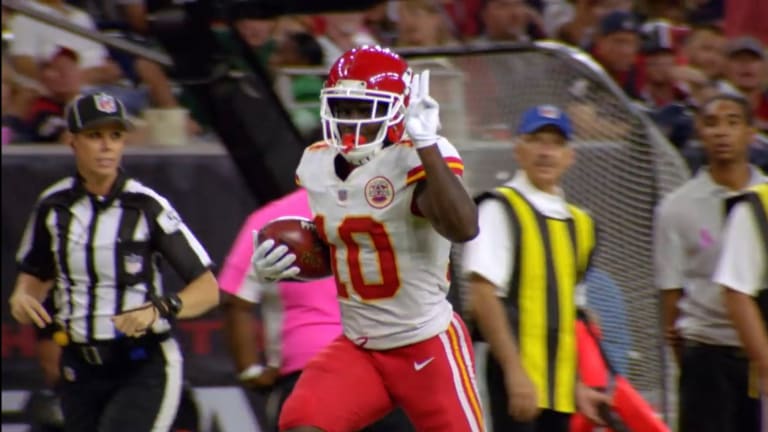 New Tyreek Hill Audio Conflicts with Abuse Allegations
An extended version of audio between Kansas City Chiefs football star Tyreek Hill and his then pregnant fiance Crystal Espinal has been released. The 11 minute clip is a conversation between the couple about their domestic abuse incident 2014 and recent abuse concerning their 3 year old son.
Kansas City radio station 610 KCSP aired the entirety of an audio recording between Hill and Espinal. Originally only parts of the private conversation was released to the public by a local news channel in April.
The conversation between Hill and Espinal discusses the 2014 incident in which Hill pled guilty to battery and domestic assault. However, the recording has Hill continuously deny those charges, blaming his fiance for lying and ruining his life.
"And if you want to rewind that night we can rewind that night too, [expletive]. You was in my house. And did I pick you up and slam you? Hell no, I picked you up and put you out my door and after that you left. And on my son you did that, bro. And then then you get in the courtroom you want to sit up there and cry on the stand. 'He hit me, he hit me.' Man, come on bro."
Hill received 3 years probation for the incident and disciplinary action from the NFL.
Espinal then changes the conversation, alleging that Hill was responsible for their son's broken arm.
"No, you're not listening to me. Think about why a freaking 3-year old will tell everybody and anybody that you broke his arm. Why would [our son] do that?" Espinal is heard saying.
Hill denies this as well, responding: "You know how I am with kids... You know how I am with [our son]. I'm very hard on him but I would never hurt my son in life."
Last month the child abuse investigation against Hill was officially dropped by Johnson County District Attorney Steve Howe.
The public may never know what truly happened between Hill and Espinol. However, Twitter users and football fans questioned the intention and journalistic integrity of KCTV5 for airing the clip partially when they had the entire 11 conversation, claiming they purposely put Hill in a bad light.
Hill spoke with NFL investigators concerning the incident in June. A meeting which sources have said the Chiefs are confident will clear him in time for training camp and his future with the league. 
Listen to the full recording below: