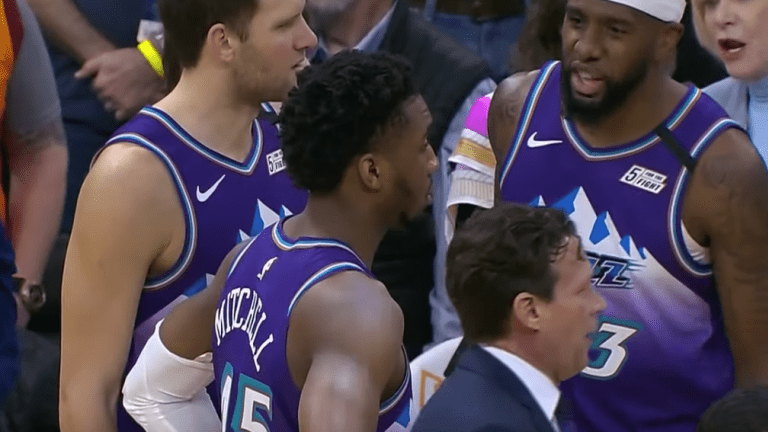 NBA suspends season after player tests positive for coronavirus
The NBA is suspending its season after a Utah Jazz player tested positive for coronavirus.
The suspension was announced ahead of a game between Utah Jazz and Oklahoma City Thunder.
"The NBA is suspending game play following the conclusion of tonight's schedule of games until further notice," the NBA said in a statement. "The NBA will use this hiatus to determine next steps for moving forward in regard to the coronavirus pandemic."
Utah Jazz also released a statement, saying that a player on the team tested negative for influenza, strep throat and an upper respiratory infection.
"The individual's symptoms diminished over the course of today, however, in a precautionary measure, and in consultation and cooperation with NBA medical staff and Oklahoma health officials, the decision was made to test for COVID-19," the team said.
"We wish this player a full and speedy recovery, and appreciate the work of health officials in Oklahoma to test a member of the Utah Jazz for COVID-19, as well as their prudent decision to test the entire team at this time," Utah Gov. Gary Herbert and Lt. Gov. Spencer Cox said in a joint statement.
The decision to suspend the season was welcomed by most of the industry. Exercising caution seems to be the course of action for most large organizations at this time.
"We are not going to speculate on what we are going to do. We are going to regroup. We just heard about this five minutes ago. It's the utmost importance that our fans, our players, and our staff we feel safe and are safe," said 76ers general manager Elton Brand per CNN.
The National Hockey League also released a statement that it is still evaluating the options around the league's season. They will make a decision on Thursday as to whether the season will be suspended.