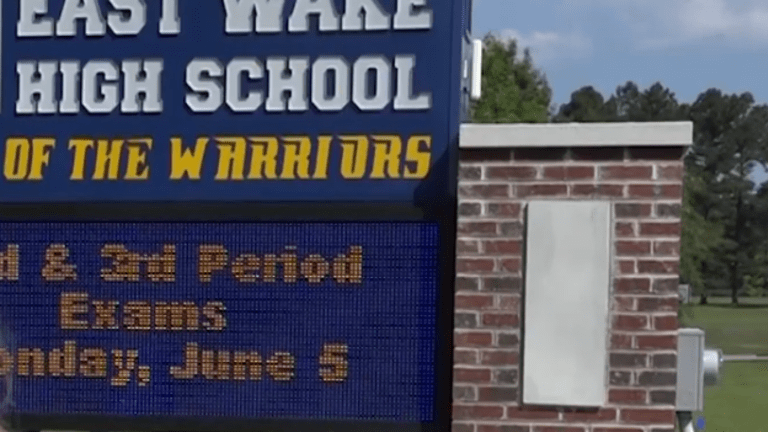 N.C. investigates after Black student unearths classmates racist group chat
East Wake High School in North Carolina has been forced to take action after at least two of their students were exposed as being part of a group chat, which talked about killing Black people.
"It's extremely egregious and troubling that the language of killing black babies and shooting black people from students is not taken seriously from school administration," community activist Kerwin Pittman said at a news conference in Raleigh this week per the News Observer.
The racially charged chat was brought to the fore by Cenayia Edwards, 14, a freshman where some of her fellow students from East Wake as well as five students from the nearby Corinth Holders High School in Johnston County made racial slurs and talked about shooting black people.
 East Wake High Principal Stacey Alston will reportedly not be disciplined for their heinous actions.
"I am reaching out to you today to state in no uncertain terms that this behavior is not acceptable in our school community, either during or after school hours," said Alston, who is Black. "Comments of this nature do not reflect our values. Moreover, they are damaging to both our school and our society as a whole."
Alston said East Wake High "will be offering opportunities for constructive dialogue among our students, staff, and families about racial issues."
"These discussions have the potential to be difficult and emotional," Alston said. "But I am confident that we at East Wake High School have the maturity, the wisdom, and, most importantly, the strength of character to engage in these conversations with one another thoughtfully and amicably."
But the student who uncovered the shocking chat feels disappointed with Alston's conclusion:
"I believed in my school to take the right actions toward this, but it was evident that they did not," Cenayia said. "This situation has definitely hurt me and opened my eyes to a lot of things. But it hasn't broken me or developed any kind of hatred toward Caucasians."