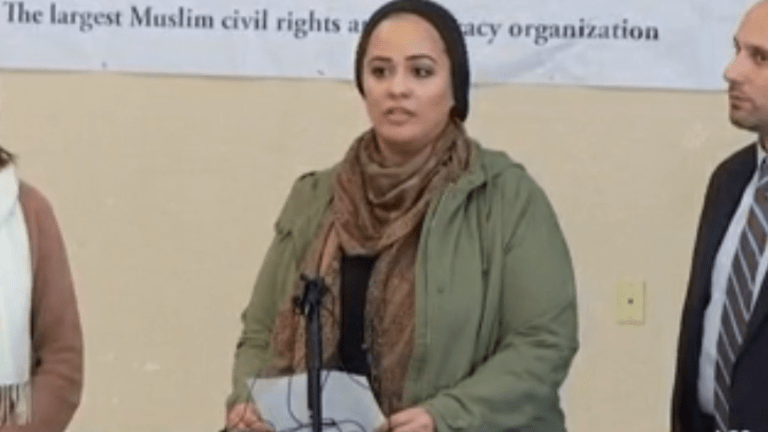 Muslim woman says she was asked to remove hijab before entering basketball game
A Colorado woman is alleging that she was racially profiled last week after she was told to remove her hijab before entering a Nuggets game.
According to the woman's Facebook page, the incident occurred on Nov. 5 when Denver hosted Miami Heat. Gazella Bensreiti, 36, says that she attended the game with her 8-year-old daughter, who was performing the national anthem with her school choir. But her hijab was raised as an issue, and she was asked to remove it before entry.
"I was instructed to retrieve my ticket from Will Call by the school officials," Bensreiti wrote on Facebook. "Upon entering, a woman named Dorothea put her hand to my face and told me that I would have to 'take that thing off' of my head. I told her that I would not take it off due to religious reasons. I was wearing a turban/cap. I explained to her that it was my hijab and that I would not be taking it off, to which she responded; 'I don't care, you can't come in with it on.'"
Bensreiti said that she agreed to remove the headscarf for protection, but asked security if they could be taken somewhere private.
"My 8-year-old daughter became distraught and was pulling on my arm, asking if they weren't going to let me in to watch her perform," Bensreiti continued. "Dorothea then went into an office and came out and waved to me to go ahead through, without making eye contact or even acknowledging me as a human being, but ushered me like an animal."
"We have reached out to Ms. Bensreiti and look forward to engaging in honest discourse that leads to greater awareness and an opportunity to further celebrate the diversity that makes Denver such a special place," Becca Villanueva, Kroenke's director of marketing communications and spokesperson wrote in an email to the Post. "While the matter is still under review, we are taking steps to modify our screening process and provide additional education for our staff."