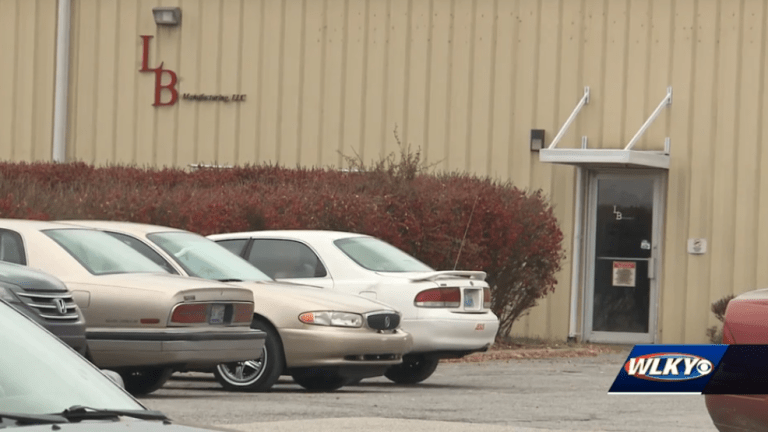 Mass Shooting Prevented By Store Employees; Officers Make Quick Arrest
Two employees and two officers have been praised for allegedly stopping a man who was planning a mass shooting in Washington County on Monday.
Matthew Smith, 37, was arrested Monday at L&B Manufacturing on Industry Drive. Reports show that Smith had several guns in his vehicle, including a fully automatic weapon.
Police reports state that Smith was confronted by an L&B employee before reporting him to their supervisor. The police were then alerted via a suspicious vehicle and trespassing complaint around 4 p.m. Monday.
"If people see something, they need to say something, right then. Don't wait. Don't hesitate. That's what prevented this, in our opinion," Springfield Police Chief Jim Smith told WLKY-TV.
Springfield Police Department Officer Joe Templeman then approached Smith, asking to see some ID. Smith's suspicious behavior prompted the officer to request that he step out of the car, and he refused.
As Templeton opened the car door, Smith raised a handgun, but the quick thinking officer grabbed it and handed it to another officer, Capt. Tony Golden.
"You don't have time to think. I just reacted. My training kicked in and I was able to get to his gun quicker than I was mine," Templeman said.
"I've thought about it constantly, what could have happened, if nobody would have noticed, nobody would have called. What would we be processing right now?"
Police also found a Colt AR 15 A-2 with a 40-round magazine in the front passenger seat and a .308 rifle was under that firearm along with a modified AR-15.
Smith has been charged with two counts of first-degree wanton endangerment of a police officer, two counts of resisting arrest, one count of attempted murder and one count of third-degree criminal trespassing. The Bureau of Alcohol, Tobacco, Firearms and Explosives is also investigating the case.