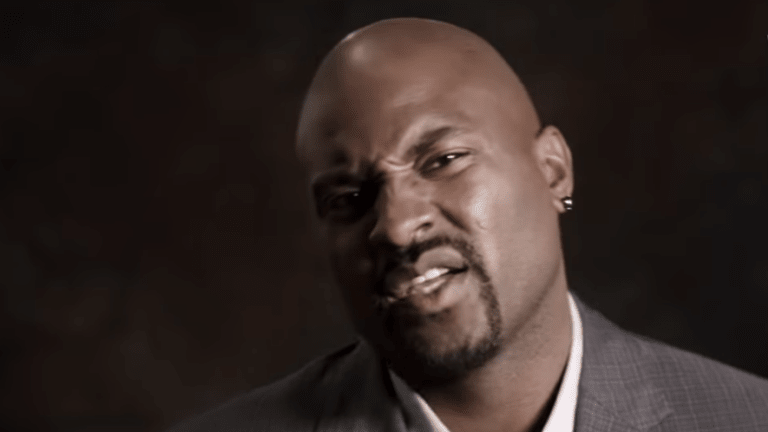 Marcellus Wiley Slam Colin Kaepernick over his Mixed-Heritage
Former NFL player Marcellus Wiley is claiming that Colin Kaepernick does not know the "full weight" of injustice because he's "mixed race."
Speaking on ESPN, he made the shocking statements:
"Kaepernick comes from a situation where he never felt the full weight of these injustices. This is a mixed-race guy who was raised by a white family from Wisconsin to central California. Respect — that does not disqualify you from talking for us but when you make misteps [sic] and miscalculations, oh, it comes back into play."
Former NFL player Eric Reid has spoken out against Jay-Z's deal with the league:
 "Jay-Z claimed to be a supporter of Colin, wore his jersey, told people not to perform at the Super Bowl because of the treatment the NFL did to Colin. And now he's going to be a part owner … It's kind of despicable."
But Wiley hopped on Twitter to fire back, defending the music mogul:
"Disgusted again by his emotional thinking! 🤢 Obviously, @E_Reid35 thinks you can win a chess match w/no pieces on the board! #ignant," he wrote.
"Remember... Discontent for money is just a trick of the rich to keep the poor without it!"#getoutyofeelings #kneeling2dealing #power #jayznfl"
Last week, Jay appeared to turn his nose down at kneeling protests:
"No, I don't want people to stop protesting at all. Kneeling — I know we're stuck on it because it's a real thing — but kneeling is a form of protest. I support protest across the board. We need to bring light to the issue. I think everyone knows what the issue is — we're done with that," he said. "We all know the issue now. OK, next. What are we moving [on to] next? ... And I'm not minimizing that part of it, because that has to happen, that's a necessary part of the process. But now that we all know what's going on, what are we going to do? How are we going to stop it? Because the kneeling was not about a job, it was about injustice," he added while seated next to NFL commissioner Roger Goodell.
He also addressed the issue of Colin Kaepernick directly. Kaepernick was blackballed from the NFL after he took a knee in protest of police brutality and social injustice.
"We forget that Colin's whole thing was to bring attention to social injustice. In that case, this is a success. This is the next phase," the entertainment mogul said. "There [are] two parts of protesting. You go outside and you protest, and then the company or the individual says, 'I hear you. What do we do next?'
"For me it's like action, [an] actionable item, what are we gonna do with it? Everyone heard, we hear what you're saying, and everybody knows I agree with what you're saying [in Kaepernick's underlying message]. So what are we gonna do? You know what I'm saying? [Help] millions and millions of people, or we get stuck on Colin not having a job."