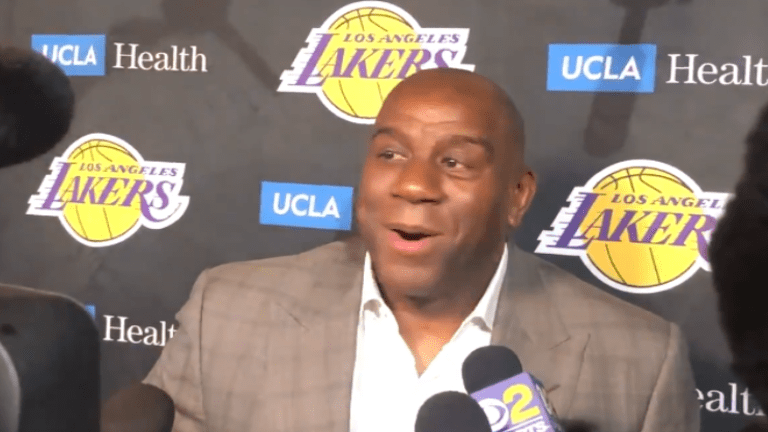 Magic Johnson denies misconduct with Lakers staff
Basketball legend Magic Johnson has denied claims of sexual misconduct against Lakers staff ahead of a damning ESPN report.
"That story is wrong," Johnson told Tania Ganguli of the Los Angeles Times.
"Never disrespected anybody. Never did anything bad. Am I tough? Hell, yeah! You work for me, I'm demanding. But at the same time I'm fair. They've been talking about that article for how many months? Everybody running, 'Oh they're writing an article.' I'm gonna say, why didn't they interview anybody at ESPN? If I was doing something wrong to employees disrespecting, this or that, think they would've hired me twice?"
Johnson denied that his recent resignation as the team's president had anything to do with the allegations which have been floating around for months.
ESPN released a statement to 'The Big Lead' regarding the alleged report but giving very little away. "It is our journalistic practice never to discuss or comment on reporting we do before we're prepared to share that work with the audience."
The Lakers released a statement following Johnson's abrupt departure:
"There is no greater Los Angeles Laker than Earvin Johnson. We are deeply grateful to Magic for all that he has done for our franchise — as a player, an ambassador and an executive," the team said. "As we begin the process of moving forward, we will work in a measured and methodical fashion to make the right moves for the future of our organization."
The lookimg misconduct article has still not been published by ESPN.