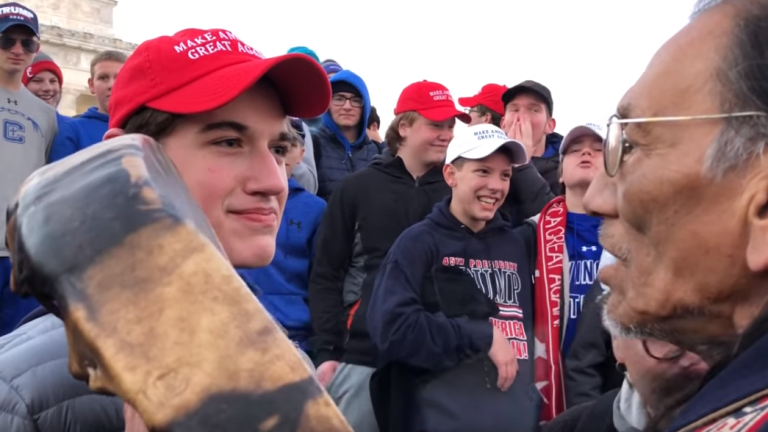 MAGA Teen denies he was "Disrespectful" in viral video
Nick Sandmann, the teen know infamous from his standoff with a Native American veteran and activist, Nathan Phillips while wearing a MAGA hat, denies that he was being disrespectful.
The video footage of the MAGA teens standing down the Native American protesters in D.C. went viral. Sandmann appeared to smirk and stand down Phillips while some of his peers were heard chanting "build the wall."
"I see it as a smile, saying that this is the best you're going to get out of me. You won't get any further reaction of aggression. And I'm willing to stand here as long as you want to hit this drum in my face," he said.
"People have judged me based off one expression, which I wasn't smirking, but people have assumed that's what I have," added.
Speaking to NBC's Savannah Guthrie, he denied that he was being disrespectful to Phillips:
"My position is that I was not disrespectful to Mr. Phillips. I respect him, I would like to talk to him. In hindsight, I wish we could have walked away and avoided the whole thing."
"It was getting ugly, and I was thinking: 'I've got to find myself an exit out of this situation and finish my song at the Lincoln Memorial,'" Phillips previously told The Washington Post. 
"I started going that way, and that guy in the hat [Sandmann] stood in my way, and we were at an impasse."
Phillips released a statement claiming that he is "a faithful Christian and practicing Catholic, and I always try to live up to the ideals my faith teaches me ― to remain respectful of others and to take no action that would lead to conflict or violence."