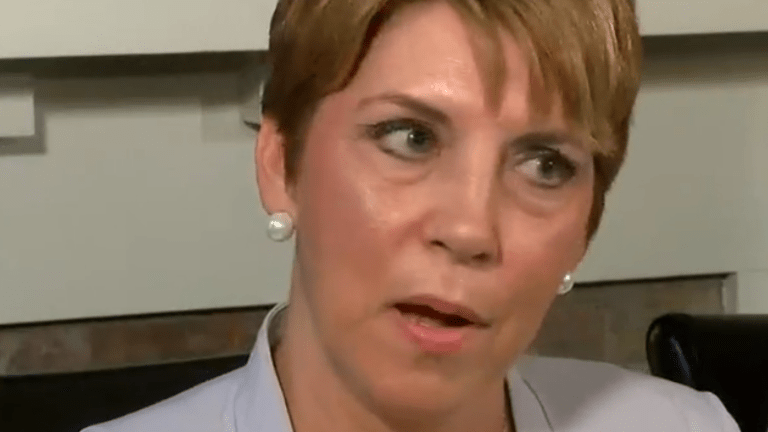 Louisiana admits to using racial slur, apologizes
A Louisiana judge who faced criticism for sending racist text messages sent to a former Chief Deputy has admitted to using racial slurs and has apologized for doing so.
Judge Jessie Leblanc initially denied sending the offensive messages, while her lawyer suggested that the leaked texts had been altered.
"I admit that I used that word," the 23rd Judicial District judge said during an exclusive interview with WAFB. "I profusely apologize for that. I should have never said it. It was uncalled for. I was angry. I was upset. But it's no excuse."
When asked by reporter Scott Hunter whether she has used the slurs before, she claimed that she never has.
"Not in a – no - not – no – not in a – no - I have not used that racial slur in the past," the judge replied. "This was in a moment of a heated exchange that was private between Bruce and one I that I never dreamed would have come out to the public."
She continued, "It is something I'm not proud of," LeBlanc said. "I've had to apologize to my husband. I will continue to have to apologize to my husband, my children, and my God for the rest of my life."
According to a report from WBRZ, Falcon said former Chief Deputy Bruce Prejean received the messages in December of 2018 WHERE Assumption Deputy Erick Taylor was referred to as a "dirty cop, thug, and a [expletive]." 
Earlier this week, Leblanc's attorney Jill Craft sent an email to the news outlet, denying the allegations:
"As I communicated to you by text messages, the two (2) pages you texted me are obviously altered. As I stated in my text response to you this morning, you can look at the two pages and readily see they have been altered and/or are fake. You have not seen the alleged actual phone from which the photograph of the photograph was supposedly taken, nor have you spoken to the alleged, actual recipient or verified the documents. For her part, my client adamantly denies the altered documents," the email reads in part.
"I have looked at the alleged text messages and they appear to have been altered. For example, if you look at both, one has screen cracks present in the lower left corner not present in the other. The type font with the alleged phone number matches exactly but the text boxes in both do not, meaning someone has deliberately manipulated the content. The alleged messages appear fake."