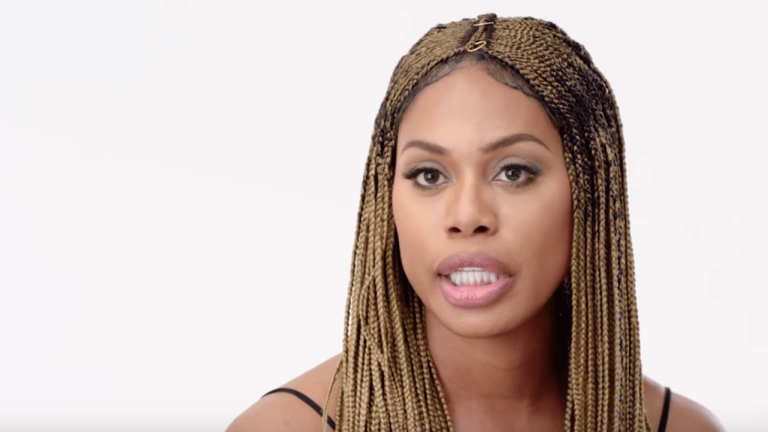 Laverne Cox Addresses Epidemic of Black Trans Women Murders
Actress and LGBTQ activist Laverne Cox sat down for an interview where she addressed the recent murders of Black Trans women across the United States.
"Your attraction to me as a trans woman is not a reason to kill me," Cox said on BuzzFeed News' Twitter morning show, AM to DM. "There's this whole sort of myth that trans women are out there tricking people, that they deserve to be murdered, and that's not the case.
"There's been a market for trans women in the realms of dating and sex work for a very long time," said Cox. "We don't have to trick anyone."
The interview comes just days after Missouri police discovered the body of Brooklyn Lindsey, on the porch of an abandoned house in Kansas City, Mo. on Tuesday. Lindsey's death marks the 11th murder of a Black transgender woman this year so far.
Last month, Muhlaysia Booker, a 23-year-old Black trans woman who was brutally beaten by a mob the month prior, was found shot to death in Dallas. Chynal Lindsey, a Black 26-year-old transgender woman, was found dead in a lake in Dallas earlier this month.
Dana Martin, Jazzaline Ware, Ashanti Carmon, Claire Legato, Michelle "Tamika" Washington, Paris Cameron and Chanel Scurlock were also murdered this year.
"For a long time I was talking about this all the time and just felt I was existing in this space of death, constantly, and it was insanely depressing," she said. "And so I try to be in a 'both and' place, given the place of celebrating Indya Moore being on the cover of Elle magazine and Janet Mock having this landmark deal at Netflix."