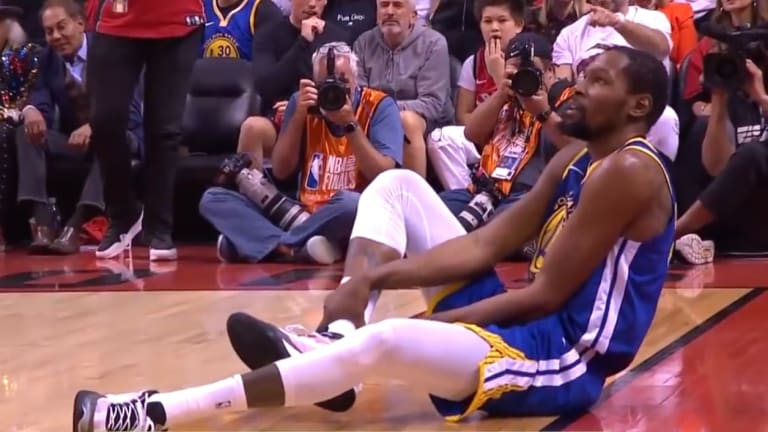 Kevin Durant Possibly Suing Warriors for $1 Billion
Kevin Durant is officially leaving the Golden State Warriors, but not without the parting gift of a lawsuit. Durant battled through an excruciating season with a torn Achilles— an injury almost impossible come back from. And he blames the team.
The Warriors have an alleged history of exploiting their player's physical capabilities after an injury in order to win games. Durant was no exception, and neither was Andre Iguodala. Iguodala reported that the team's doctors lied to him about his fractured leg in order to get him back into the game last year.
Sports Law Insider reveals that the championship winner could sue due to the fact that "the Warriors explicitly told Durant there was no chance the Achilles could be injured."  That ultimately proved false during the NBA Finals. 
The suit could allege malpractice and breach of duty with improper advice. Advice that may have permanently ended his career. According to the American Journal of Sports Medicine, "players only have a 38.9 percent chance of ever playing in the NBA again after suffering this injury."
Durant's lawsuit would include the loss of revenue and further earnings he would miss out on because of the injury. Games, endorsement deals, advertising, shoe collaborations and sponsorships are just a few that support his multi-million dollar net worth.
Durant is currently a free agent. While the lawsuit is not finalized, he has up to three years to file a medical malpractice against the Warriors in California, before the state's statute of limitations deny it.